The decision to transition to a plant-based lifestyle is not one taken lightly. Likely you're weighing pros and cons of your current habits and your vision of your future. Add in the emotionally-loaded holiday season, and it can be overwhelming to anticipate how your Aunt Betty might take the news of you decreasing your intake of turkey, ham, and her famous stuffing. Here's a little secret: being plant-based doesn't have to be a huge deal, no matter what the date it is. Whether you're new to a plant-based lifestyle, a plant-powered veteran, or hosting your first vegan guest, these four Vegatopians would like to share what meals and gestures they're grateful for during the holiday season.
Having an attitude of inclusion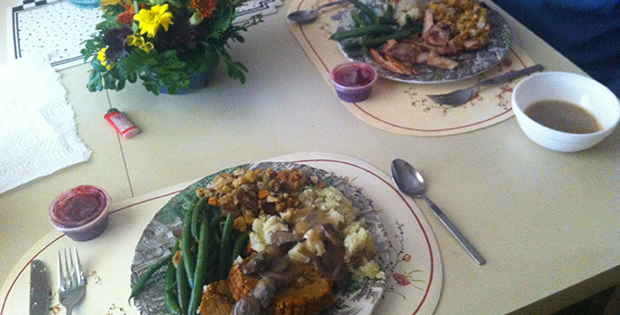 Attitude is everything. Accounts Receivable Coordinator Krystle appreciates the little gestures a host can take to make all guests feel welcome. "It makes me feel pretty awesome when a host doesn't treat my diet like a hassle. Usually, as a vegan all of our food is separate and different, so you feel a little segregated and isolated; like everyone's talking about you. Making some of the side dishes vegan by substituting vegan butter or almond milk for butter and milk, makes it really nice. Then I'm just a regular guest. If there's a plant-based dessert, then I'll feel really special. Most vegans feel like they are annoying and a hassle. I try to not make a big deal about it."
Approaching plant-based thanksgiving with an open mind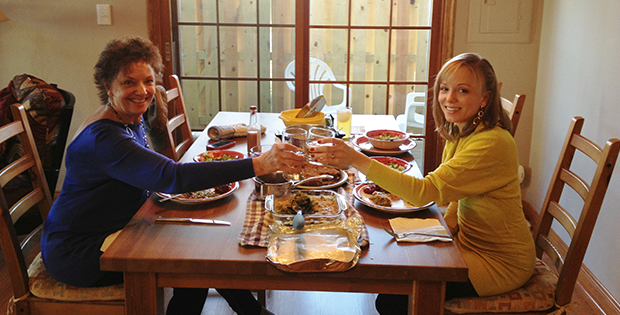 This Thanksgiving marks Chicago Account Manager Tambra's 20th anniversary of being plant-based. Obviously this is an occasion she'll celebrate deliciously with friends and family. "I'll usually host holiday meals, or bring dishes to my family's parties. It ends up being the easiest way, without making anyone feel excluded. My husband's mom and my aunt are great about making vegan foods. It's been gradual and only started recently. When I bring a plant-based dish I'll stick it on the dessert table with everyone else's stuff. If people try dishes with an open-mind they'll realize, 'I can have my favorites, but I don't need to eat animal products.' 'I can feel full without eating meat.' 'Vegetarian food can still be hearty and filling.'  This year I'm going all out, and doing it up. My family will enjoy my lentil loaf, cranberry walnut bread, green bean casserole, famous mashed potatoes, roasted vegetables, stuffing and pumpkin pie."

Outsourcing the kitchen work
Experiential Marketing Leader Christel tries to ease the pressure of cooking off of her friends and family, by making meals ahead, picking up food, or dining out. "My best holidays with my family were when we ditched a traditional meal. In the past I've made tempeh pot pies, white bean chili, poached pears, or fruit platters with toast and a white bean spread. I've also ordered all the vegan food from Whole Foods so we have plenty of sides to share. Whole Foods does an amazing vegan thanksgiving spread. Since you can pre-order everything and just pick it up, it takes the pressure off of everyone. You can pretty much make all the sides plant-based and then eating plant-based isn't a big issue.
Changing dishes without losing tradition
Regional Educator Paige, has been plant-based for 20 years, and with the help of her sister has convinced most of her family to join her. She views the holidays as the perfect time to try a new lifestyle. "One of the biggest causes of resistance when people are trying to go plant-based is tradition. Turkey, mashed potatoes, stuffing, etc. What they are really saying is that it's part of my culture, it's part of my life. If you very kindly bring up the topic of a different lifestyle during a time of tradition, suggestions on how to make things a little healthier, it's shocking how responsive your family is likely to be. The real tradition is really the company. It matters more than the food. Sitting down, and keeping yourself healthier over the year. If you can master a plant-based holiday than you absolutely do it every day. All it takes it little tiny changes, like switching butter, or switching dairy. Your mashed potatoes take exactly the same if you use Earth Balance instead of a regular butter stick. It's very similar taste, texture and mouthfeel. Vegan Shepard's pie is my mom's new thanksgiving tradition. Together, we've transitioned as a family from a holiday meal that is totally meat, to half-half, to all plant-based and not so healthy, finally now to plant-based and healthy."
What's the best plant-based holiday meal you've ever eaten? Who have you shared it with?