Welcome to my plate! As a dedicated runner, outdoors enthusiast and cross training advocate, eating for performance is as crucial to my results as putting in the sweat and miles. My background in holistic and culinary nutrition has helped me approach the kitchen as my playground. I love finding innovative ways to integrate seasonal ingredients and nutrition research to match my training goals. Enjoy a genuine look at what I put on my plate, as an athlete and nutritionist.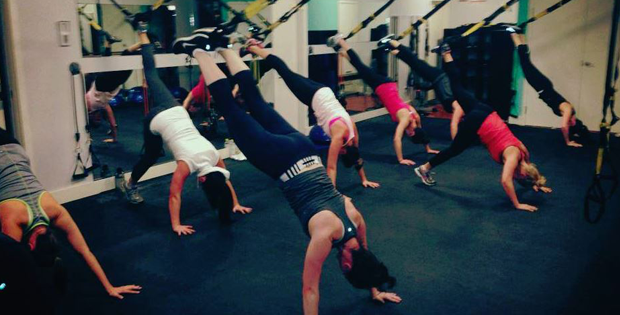 I first tried TRX a year ago, when a fellow Vega Educator, Coach Raines, gave me a tutorial through a one-on-one training session. It's since become a regular (weekly) cross-training workout for me, as I work to improve my core stability, overall strength, power, coordination and balance. Combined with my diet, it's helped make me a stronger (and less injury-prone) runner.
What is TRX?®
TRX is body weight suspension training, originally inspired by the Navy Seals. It's not a typical drill sergeant style of workout, but rather a dynamic set of compound exercises (meaning you are challenging more than one body part at a time, through a fluid motion).
No two TRX workouts are alike. Especially if you work with a trainer, or go to a group fitness workout. It's similar to yoga, in that each trainer puts their own spin on the exercises, creating a custom combination throughout the 45 or 60 minute classes, which ideally also involve cardio intervals. As you get stronger, there's always modifications to continue challenging you. For the past year I have been training at Kondi Fitness in Vancouver, where Natalie Taylor, (my fav trainer), shares what she loves about TRX:
"It challenges you to use your core strength for the full workout; TRX is constant core engagement. It never gets easier because as you become stronger you can adjust the angle of your body to your anchor point to increase intensity".
Just for fun, an Instagram video demonstration of the Vega Team in action after a recent TRX class,click here.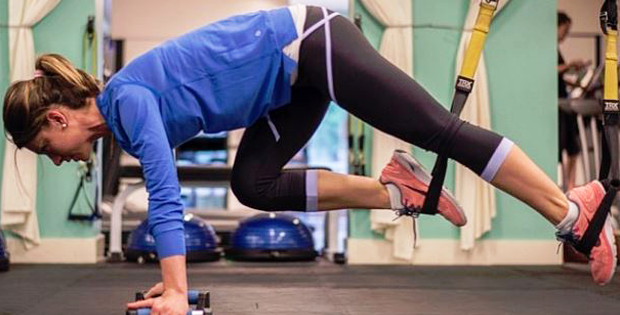 Here's what's on my plate during a TRX cross-training day:
6:15AM
While I'm usually not a morning person when it comes to exercise, I enjoy the accountability of group fitness classes in the morning. Plus when the trainer gets to know you by first name, you feel that much more compelled to show up! I never regret going once I'm done!
Even if your appetite is not strong first thing in the morning before training, I encourage getting in some form of easily digestible fuel in order to maximize the quality of your workout. It can be a smaller portion, but enough to reduce muscle catabolism. Pre-fueling can help you become  a smarter athlete, increasing the efficiency of your training, and getting better results out of the time you put in.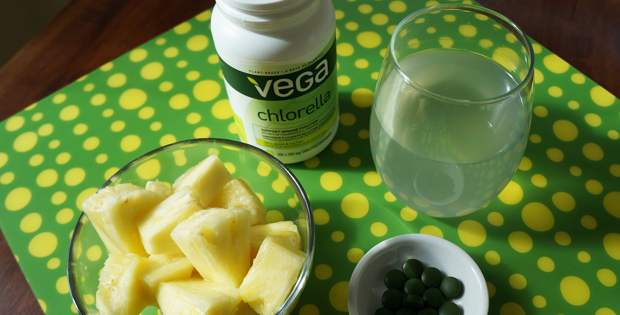 This morning I had fresh fruit, an easy no-excuses option. Pineapple has bromelain, a proteolytic enzyme.. I try and eat a snack at least 30 minutes before class.
I also prepped a water bottle with Vega Sport® Electrolyte Hydrator to take with me. I find sipping on it mid-workout helps me keep cool and hydrated. With cardio intervals, TRX can get very sweaty. Any prep you can do the night before helps save time in the morning. I know lots of runners who sleep in their workout clothes for early starts. I don't go that far, but I do lay out my workout clothes to save time.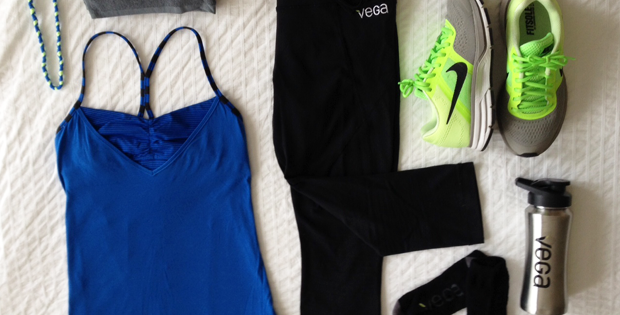 7AM Class is in session!
TRX classes at Kondi Fitness are 60 minutes in length. TRX can also be an at-home workout, through the use of DVD or online instructional guides, and a home kit. All you need is a stable anchor point such as a doorway, goal post at outdoor soccer field, or even a tree branch in your backyard.
8:30AM
I live close to the studio, so I'm home within 20 minutes for my post-workout recovery. This morning I am planning to make breakfast at the office (the joy of having a Vitamix® blender at work), so I took 7 grams of chlorella (if you're new to chlorella start with 1 to 3 grams). Vega® Chlorella is a freshwater green algae. I prefer tablets and I took it with coconut water.
9:30AM

Smoothie bowl time! Vega Educator Bridgette got me hooked on smoothie bowls recently, and they've been my favorite way to change up my smoothie routine. Sometimes no matter how much you love your go-to combination, you need some variety. Simply take your favorite smoothie recipe, and blend with less fluid for a thicker texture, and top with your favorite superfood ingredients. This morning I made a thick version of this Blueberry Smoothie, and topped it with sprouted buckwheat groats and coconut flakes.
1PM
Today's lunch involves a bit of sporadic grazing, as I had several meetings booked back-to-back. Bento boxes are perfect for this reason. It's a combination of ample variety, and also bite size eats that are great for non-typical lunch hours. In today's "bento," I combined hummus (sprinkled with turmeric and kelp flakes) with gluten-free crackers, raw veggies (zucchini, tomato and carrots), olives and pecans.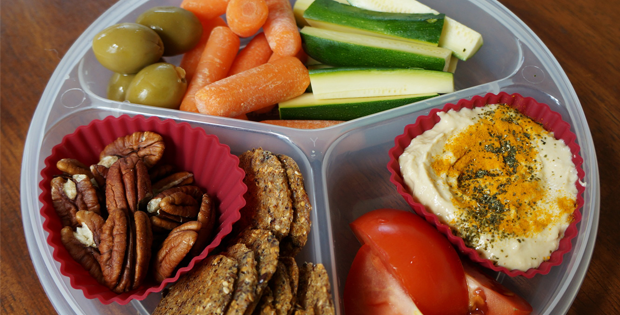 Because I grazed on my bento box for over an hour, I didn't end up having an afternoon snack. Had I been feeling peckish, I typically keep seasoned pumpkin seeds, seaweed snacks, and Vega One Meal Bars deskside.
6:30PM
When I got home from work, my fiancé and I decided to go for a casual bike ride (for the sights not the sweat). Because we didn't want to lose out on even a minute of the final summer sunsets, we decided to get takeout instead of making dinner. I always like the challenge of finding healthy takeout, or adapting the menu.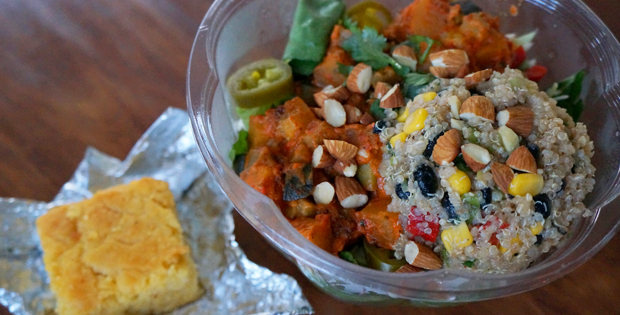 During our bike ride we stopped at a local deli sandwich bar, where I ordered a bun-less version of the Veggie Baguette (loaded up with extra veggies). They added a quinoa salad "side-kick" (which was combined with black beans for additional protein). I had packed a few squares of a vegan cornbread (stored in the freezer for grab and go snacks) in case we didn't find food easily on our ride. I love cornbread so much this ended up being my dessert.
9:30PM
Nightcap once we got back from biking was a Pukka Revitalize tea blend with cinnamon, ginger, mint, and clove. I use a splash of organic apple juice to cool it down to drinking temperature, and add a bit of sweetness from fruit while still being lower in calories. I don't want extra stimulants before bed. It's a much better choice than just juice, and ends up being just as flavorful.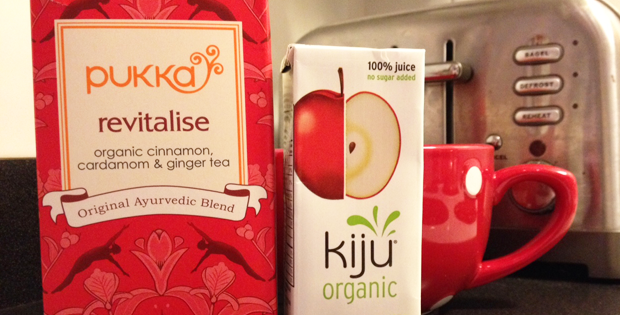 I really love end of day rituals, like a cup of tea, Epsom bath and a magazine, glass of wine, or preparing lunch and workout gear for the next day. It's a mental trigger to unwind and change pace from day into night.
My next TRX workout is on the weekend, and I'm already looking forward to it!
Have you tried TRX? Any go-to snack or meal ideas from early morning group fitness classes you attend? I'd love to hear what's on your plate!
NOTE: VITAMIX is a registered trademark of Vita-Mix Corporation.  TRX is a registered trademark of FITNESS ANYWHERE, LLC.
References
University of Maryland Medical Center. (2014). Medical Reference Guide: Bromelain. Accessed 8/25/2014 http://umm.edu/health/medical/altmed/supplement/bromelain