Whether V-Day means celebrating someone you love, or just food you love, these brunch ideas are worthy companions for your Valentine's Brunch. Featuring a main dish (or two), and a smoothie to match, pick your culinary adventure based on your taste cravings. You might soon start believing brunch is the most important meal of the day!
Choose this traditional brunch recipe if you've had a hard time convincing someone you can't make a good vegan French toast (and you're not ready to let go of egg-nog season). Top with fresh berries, sliced banana and shredded coconut (or lay out a variety of fixings for a "choose your own adventure" approach).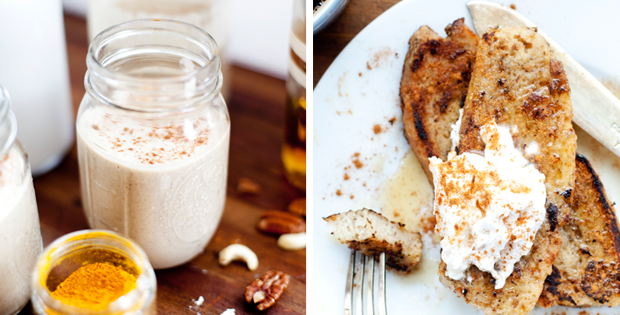 Minimal prep the night before, these oats are ready and waiting for you when you decide to get out of bed (...or come back from your run, depending on your perfect morning...). The pumpkin pie spices pair well with cinnamon and nutmeg in Vega One Vanilla Chai.


Gluten-free and nutrient dense, this brunch is hearty and energizing. Adding herbs to your smoothies (like basil), help boost flavor without adding sugar. Sip on the smoothie while you prep the tortilla filling.


Whether your date has a sweet tooth, or you're sharing Valentine's Day with the whole family, these recipes are a clean take on comfort food cravings. Serve the "cookie dough" dip with (a mixed variety of) apple wedges and gluten-free crackers.


This is a great spread if you plan on taking your time to eat it, sharing the plates tapas-style (small portions, lots of variety). It will require a little more time to assemble, so plan ahead and start your prep the night before. The extra time is worth it; these flavors will reward you,




What's on your Valentine's Day Brunch menu?