Put a new spin on your favorite dishes. Traditional Pad Thai gets a plant-powered kick, with the addition of spaghetti squash noodles. To make spaghetti-like noodles from this squash, use a fork to scrape them out of the shells after they've been halved and baked to make your Pad Thai base. We hope you enjoy this spaghetti squash pad thai recipe!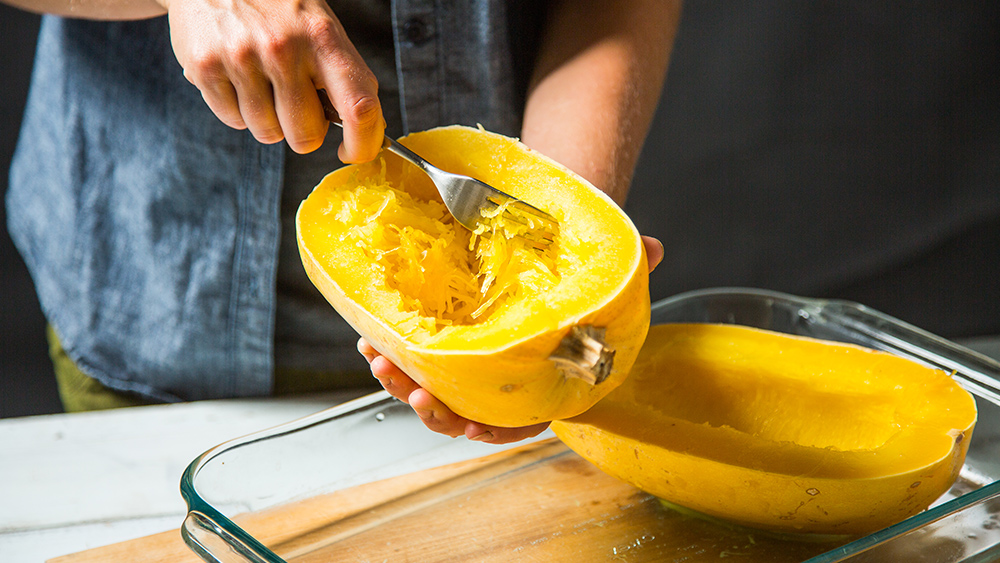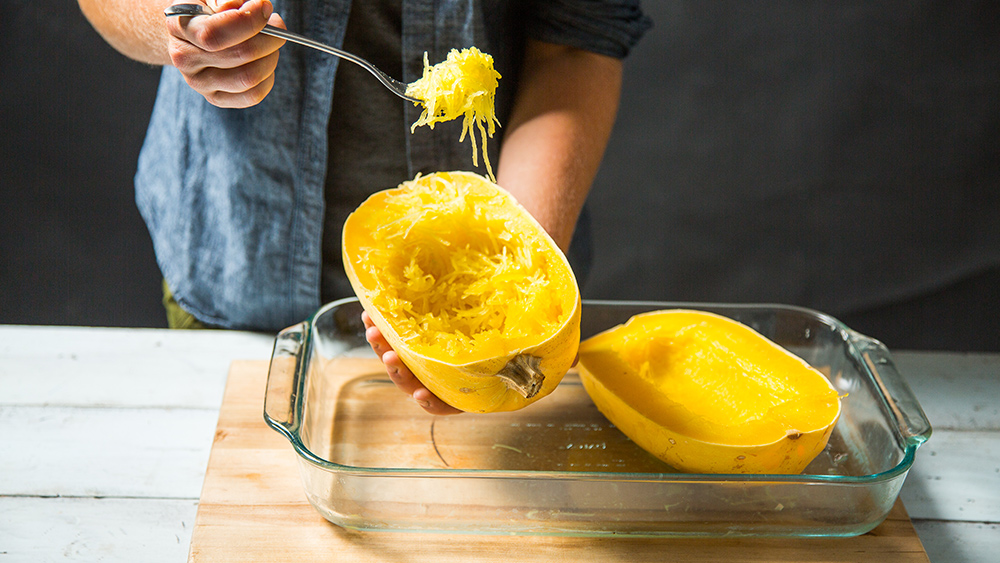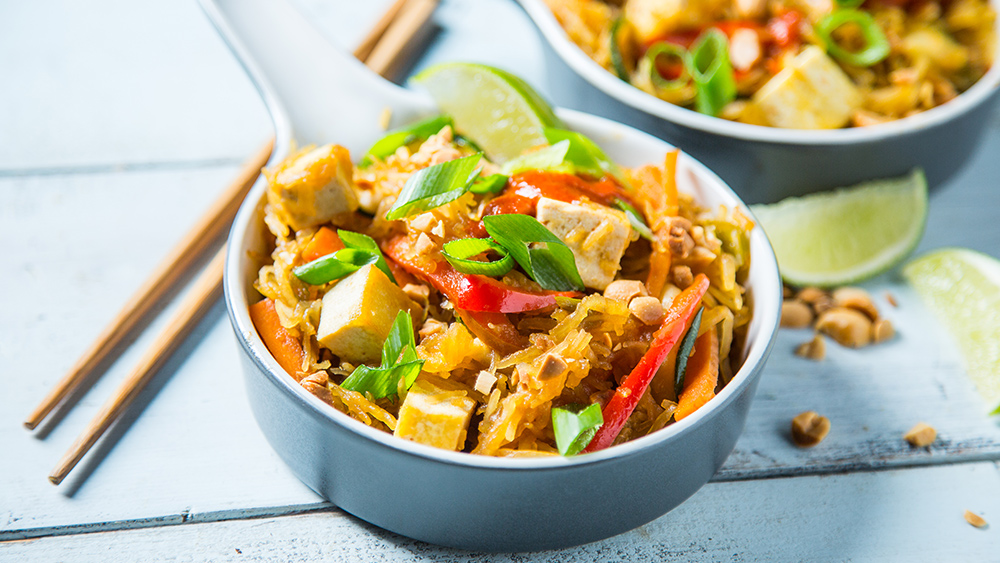 Ingredients
Spaghetti Squash:
Small spaghetti squash
Salt & pepper, to taste
Olive oil for drizzling
Sauce:
¼ cup soy sauce
⅓ cup maple syrup
4 tsp tamarind paste
Optional 1 tsp sriracha
Toppings:
1 12 oz/350g package extra firm tofu
2 to 3 cloves garlic, crushed
1 bunch green onions, sliced
1 red bell pepper, julienned
1 zucchini, julienned
2 carrots, sliced
½ cup roasted peanuts, chopped
¼ cup vegetable oil of choice
Lime wedges, for garnish
Preparation
Heat oven to 425°F. Split squash lengthwise into halves and remove seeds and squash strings with a spoon. Place squash halves cut side up in a roasting pan, drizzle with olive oil, and season with salt and pepper. Roast until tender, about 45 minutes to an hour. Take out of oven and let cool completely. To save time, roast the squash the night before and let it cool in the fridge overnight.

Use a fork and scrape out the squash into a large bowl, completely cleaning out the shell. Separate the squash "noodles" delicately with a fork and season with salt and pepper.

Optional: You can save the hollowed-out squash shells to serve your Pad Thai in.

Combine sauce ingredients in a small bowl and whisk.

Prepare other ingredients and place in small bowls. Have everything prepped and close to the stove, before the cooking starts.

Heat vegetable oil in wok or a large frying pan to hot, but not smoking. Place tofu in pan and stir fry, about five minutes. Once cooked, take off pan and place on separate plate, leaving oil in pan. Coat tofu with one-third of the sauce.

Add garlic and half of the onions to pan to release the aroma, about one minute.

Add one-third of the sauce to the pan and add carrots. Cook for 1 to 2 minutes. Add zucchini and red pepper, and cook for one more minute. Veggies should be cooked, but still be crunchy. Once ready, remove them from the pan.

Add the remaining sauce to pan and using tongs, add squash "noodles" to pan. Be warned, the "noodles" are quite delicate and will turn mushy if not handled delicately. Using tongs, carefully stir-fry the noodles allowing them to soak up the sauce, about five minutes. Once coated and heated thoroughly, add tofu and veggies back into pan, carefully mixing all together. Add peanuts and place into serving dishes or empty squash shells. Top with green onions, and serve with lime wedges.