We know that when you're looking for next level nutrition, you also want next level transparency on what's in your vegan protein powder. One of our most commonly asked transparency question is: "What are Natural Flavors in the ingredients list of my favorite Vega product?" and we're here to answer that today.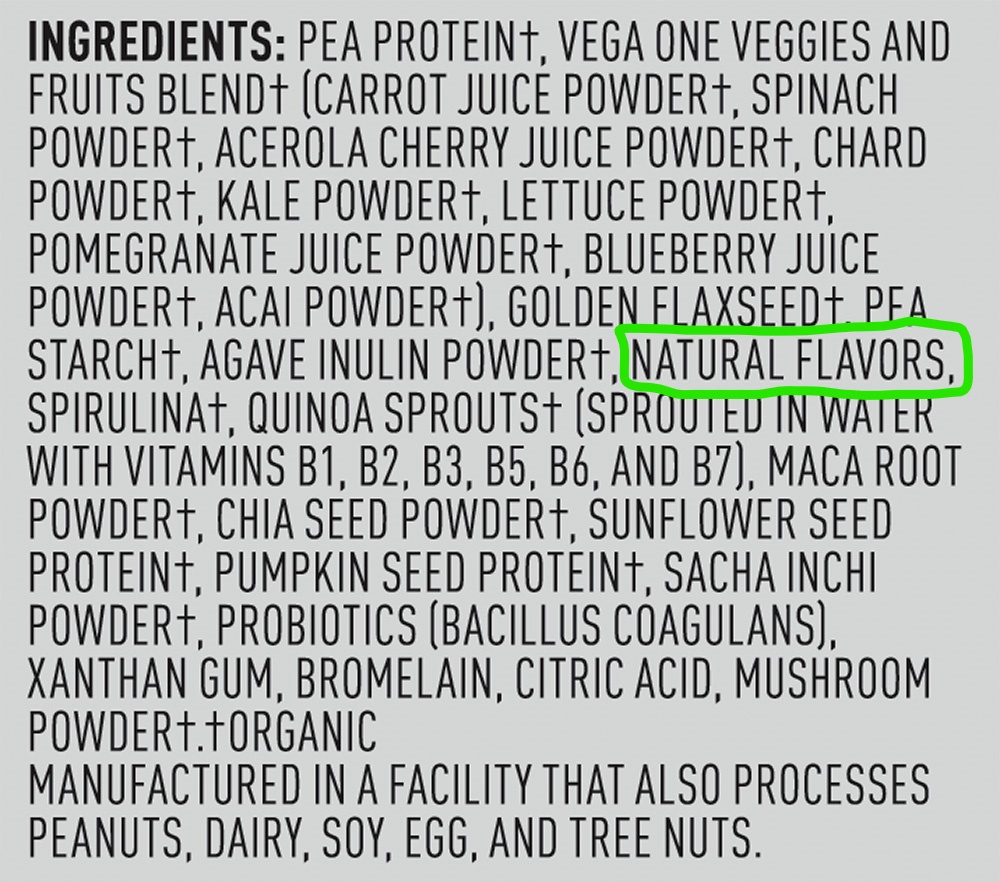 What are Natural Flavors?
Natural flavor ingredients are derived from natural sources. Artificial flavors are synthetically produced to mimic natural flavors. The Food and Drug Administration (FDA) in the United States defines a natural flavor as:
"The term natural flavor or natural flavoring means the essential oil, oleoresin, essence or extractive, protein hydrolysate, distillate, or any product of roasting, heating or enzymolysis, which contains the flavoring constituents derived from a spice, fruit or fruit juice, vegetable or vegetable juice, edible yeast, herb, bark, bud, root, leaf or similar plant material, meat, seafood, poultry, eggs, dairy products, or fermentation products."1
At Vega, our Natural Flavors are from the extract of plants. You'll see this ingredient as part of the ingredient list of your favorite product. These extracts come from a variety of plant-based sources such as spices, fruit or fruit juices, vegetable or vegetable juices, herbs, and roots. The ingredients used to make a specific flavor are extracted from multiple plant-based sources to give you the characteristic flavor and smell of the intended flavor.
Examples of Natural Flavors Ingredients
The natural flavor blends aren't just one extract. Instead, we used a variety of plant-based extracts to get the best flavor.  When you grab a ripe orange at the grocery store, you aren't just tasting one single "orange flavor." What you're actually smelling and tasting is the combination of thousands of naturally occurring compounds that nature has put together. It's the sum of all these compounds that tastes like orange.
To create that same orange or citrus flavor in our powered protein shakes, we extract compounds from a variety of plant-based sources and blend them together to make that characteristic flavor and smell.
Processing of Natural Flavors in Vega Products
Just like sticking coffee grinds in a pot and percolating with water, many of our natural flavors are made using a similar process, including vanilla, cocoa and fruit flavors. But instead of making a pot of coffee, we end up making a pot of flavor extract (labeled as Natural Flavor) that is then spray dried and added to your favorite Vega product.
For example, the natural vanilla flavor found in the Natural Flavors of French Vanilla, and the berry flavor found in the Natural Flavors of Berry Vega One® are derived from vanilla bean and berry juice respectively.
Why We Don't List Our Individual Extracts in Vega Natural Flavors
Our Natural Flavor blends make our products unique and stand out from other protein powders, so the list of exact extracts in them is proprietary and top-secret.
You can rest assured that Vega products are also vegan certified by Vegan Action and gluten-free. Vega One®, Vega® Protein & Greens, Vega® Protein Smoothie, Vega® Essentials and Vega Sport® Protein are all Non-GMO Project verified as well. Additionally, there are no artificial flavors, colors or sweeteners in any Vega products, and that includes our Natural Flavor blends. Yeast is also not an ingredient in our products.
Is there MSG in the Natural Flavors?
There is no MSG used, ever, in any Vega product.
I Have an Allergy or Sensitivity. Do Natural Flavors Contain Allergens?
All of our products list whether they contain, or are manufactured in a facility that also produces products that contain, the top allergens as identified and regulated by Health Canada and the FDA.
In the United States, FDA Regulates These Top Allergens:
Milk
Eggs
Fish
Crustacean shellfish
Tree nuts (including coconut)
Peanuts
Wheat
Soybeans
In Canada, Health Canada Regulates These Top Allergens:
Milk
Eggs
Fish (including shellfish)
Tree nuts (does not include coconut)
Peanuts
Wheat
Soy
Sesame seeds
Sulphites
Mustard
If a Vega product contains one of these allergens, including within the Natural Flavors, you will see this warning listed underneath the ingredient list.
For allergies or sensitivities that are not one of those top allergens, we do not control for cross-contamination along our supply chain and cannot guarantee the absence of traces of this ingredient in our products. We are not able to confirm whether or not those ingredients are found in the natural flavor.
We hope this helps to demystify what Natural Flavors are and why we add them to the Vega products you love.
Reference:
Food And Drug Administration Department Of Health And Human Services. (2017).  Title 21–food and drugs. Chapter i–food and drug administration Department of health and human services Subchapter b–food for human consumption Part 101 — food labeling. Accessed on 6/6/18 from: https://www.accessdata.fda.gov/scripts/cdrh/cfdocs/cfcfr/cfrsearch.cfm?fr=101.22