What can you do with 5 minutes, a mug and some cinnamon? Make yourself an individual cinnamon roll. Yes, it's that easy. Since sharing is caring, this recipe can be doubled and divided into two mugs.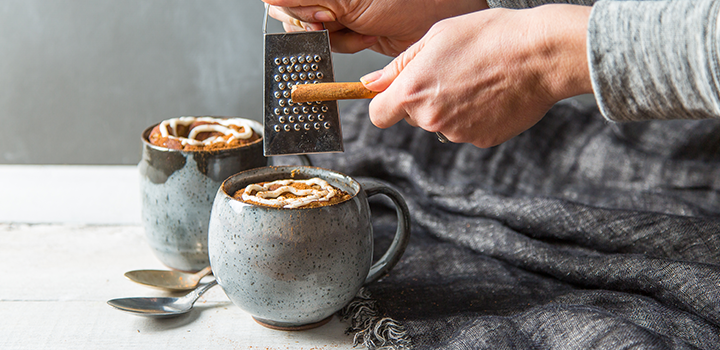 Additional Notes:
Don't have an microwave? Bake in a preheated oven at 350F for 10-15 minutes or until desired texture.
Piping: Did you know you don't have to have a pastry bag to pipe?  If you want to go all out and pipe a swirl of cream cheese, you can do that with a freezer bag.  Simply put icing into a small freezer bag, push to bottom, cut hole in bottom side and pipe out of hole.
Option: Sub Vanilla Vega® Essentials for Vega® Protein & Greens–it will be greenish and spongier.
Ingredients
4 Tbsp gluten-free all purpose or all-purpose flour
2 Tbsp Vanilla Vega® Protein & Greens
1 Tbsp + 1 tsp granulated coconut sugar (if you can't find it, white sugar may be used)
1/2 tsp baking powder
6 Tbsp water
2 tsp coconut oil
1 tsp cinnamon
1/4 tsp vanilla
Optional: vegan cream cheese icing
Cream Cheese Icing:
1 Tbsp vegan cream cheese
2 tsp powdered sugar
1 tsp coconut oil
Preparation
In a bowl combine 1/2 tsp cinnamon with 1 tsp sugar. Set aside.

In a separate bowl, mix flour, sugar, Vega® Protein & Greens, baking powder and 1/2 tsp cinnamon.

Add water, coconut oil and vanilla, stirring until combined.

Sprinkle bottom of mug with 1/3 cinnamon sugar mixture and add 1/2 of your batter.

Sprinkle with 1/3 cinnamon sugar mixture.

Add remaining batter and sprinkle with remaining cinnamon sugar mixture.

Microwave for 1 1/2 to 2 minutes. Start at 1 1/2 minutes and add 30 sec increments until it's slightly spongy but not doughy. If you doubled the recipe microwave one mug at a time.

Allow to cool.

Optional: Top with dollop of vegan cream cheese (or go all out and pipe a swirl of cream cheese icing on top).