Image sourced from Ryan Emberley
Vega had the amazing opportunity to sponsor Madonna's Hard Candy Toronto opening last week. Of course, we had to concoct a Hard Candy smoothie, so here it is. This strawberry raspberry smoothie is a bit fancier than we are used to, but it was fun to test out ways to decorate a glass.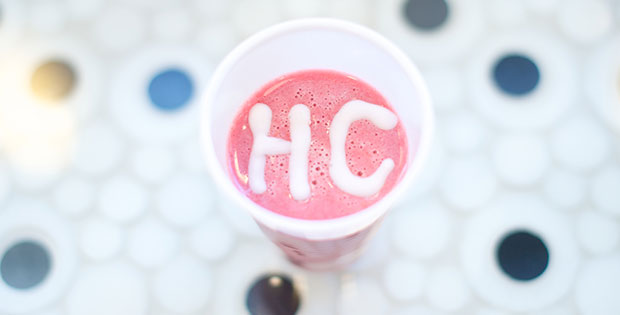 Ingredients
1 serving Vanilla Vega Sport® Premium Protein
½ cup frozen strawberries
½ cup frozen raspberries
2 cups sweetened vanilla almond milk (or other non-dairy alternative)
2-3 ice cubes
Coconut Swirl:
1 can full-fat coconut milk
2 Tbsp virgin coconut oil
Preparation
Place serving glasses into the freezer.

Add all smoothie ingredients to blender.

Blend until smooth.

For coconut swirl, blend coconut milk and virgin coconut oil together and pour into a squeeze bottle.

Remove the chilled glass from the freezer (the colder the better) and swirl the inside of the glass with the coconut swirl mixture (if it's too watery, add a little more coconut oil to the mixture).

Pour smoothie into glass immediately and enjoy!