Are there any foods that you were completely unaware of as a child, yet today, you can't get enough of them? Back in the day, the well-known frozen blend of peas, carrots, corn and beans made regular appearances on my family's dinner table. If we weren't having that, it was boiled broccoli and cauliflower coated in cheese sauce. I didn't mind this at the time but can't say I've ever craved since!
Eventually in my late teens, I developed a keen interest in cooking and at the same time, my veggie-loving horizons were broadened. A friend recommended that I try roasting butternut squash, something completely foreign to me at the time. "What do you put on it?" I recall asking, and the response was simply sea salt and black pepper. I tried it, loved it, and proceeded to make up for 18 years worth of butternut squash absence by incorporating my new favorite veggie into as many meals as possible.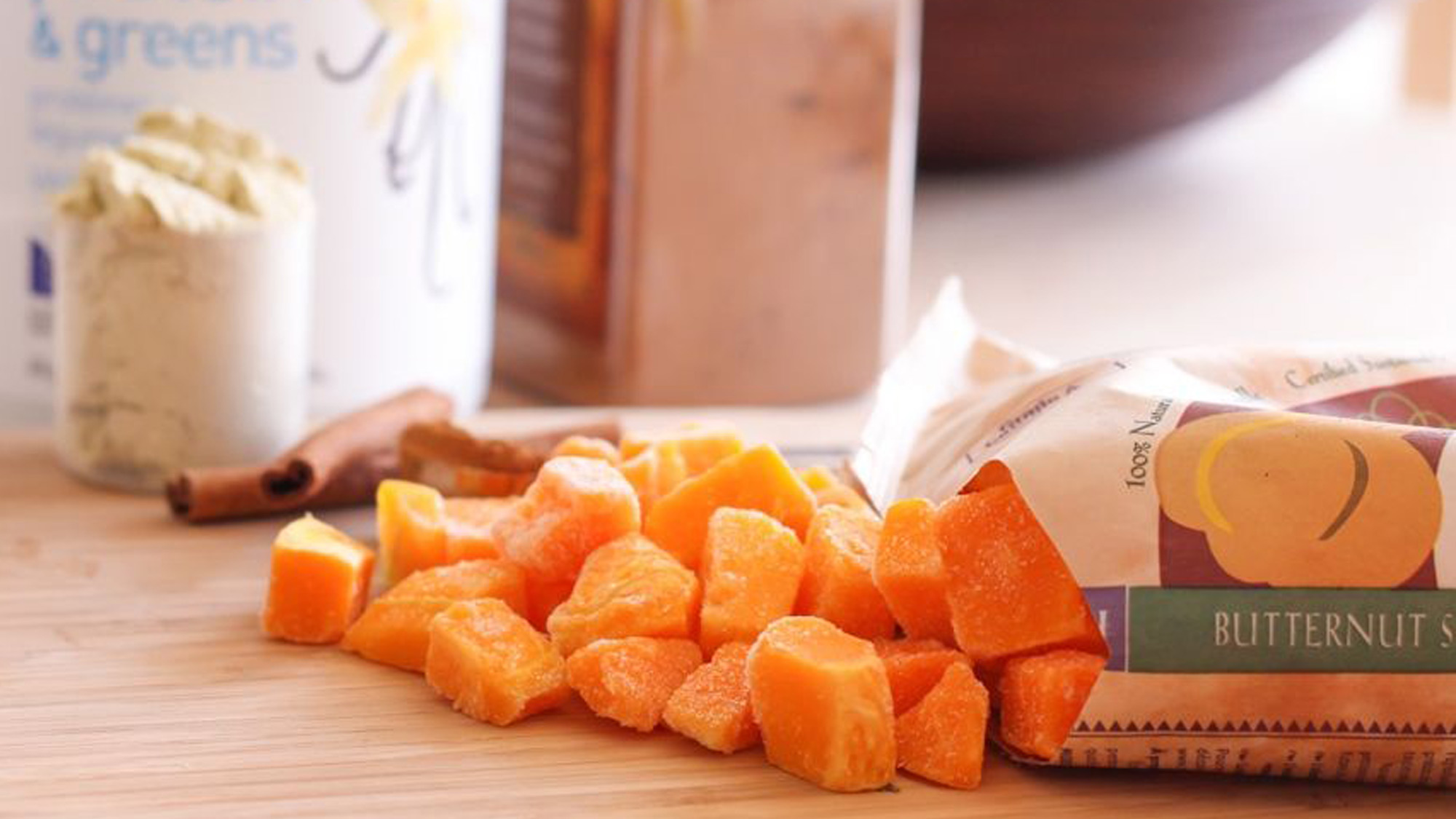 I'm definitely a summer girl at heart, but one of the things I do look forward to when the temperature drops is the wide range of delicious produce that comes into season. Butternut squash is one of many different types of winter squash, and one of the biggest reasons it ranks high on my list of favorite veggies (aside from being delicious, of course!) is its versatility.
If a savory flavor is what you're looking for, a simple roasting of peeled butternut squash cubes tossed in a little olive oil and some fresh or dried herbs makes for an incredibly satisfying, warming side dish. Alternatively, you can sprinkle the squash with cinnamon instead of herbs for a sweeter option. Winter squash of all types is great for adding to soups and stews, but if cooking anything at all seems like too much work, then this Golden Butternut Banana Smoothie will allow you to get your butternut squash fix – no oven required.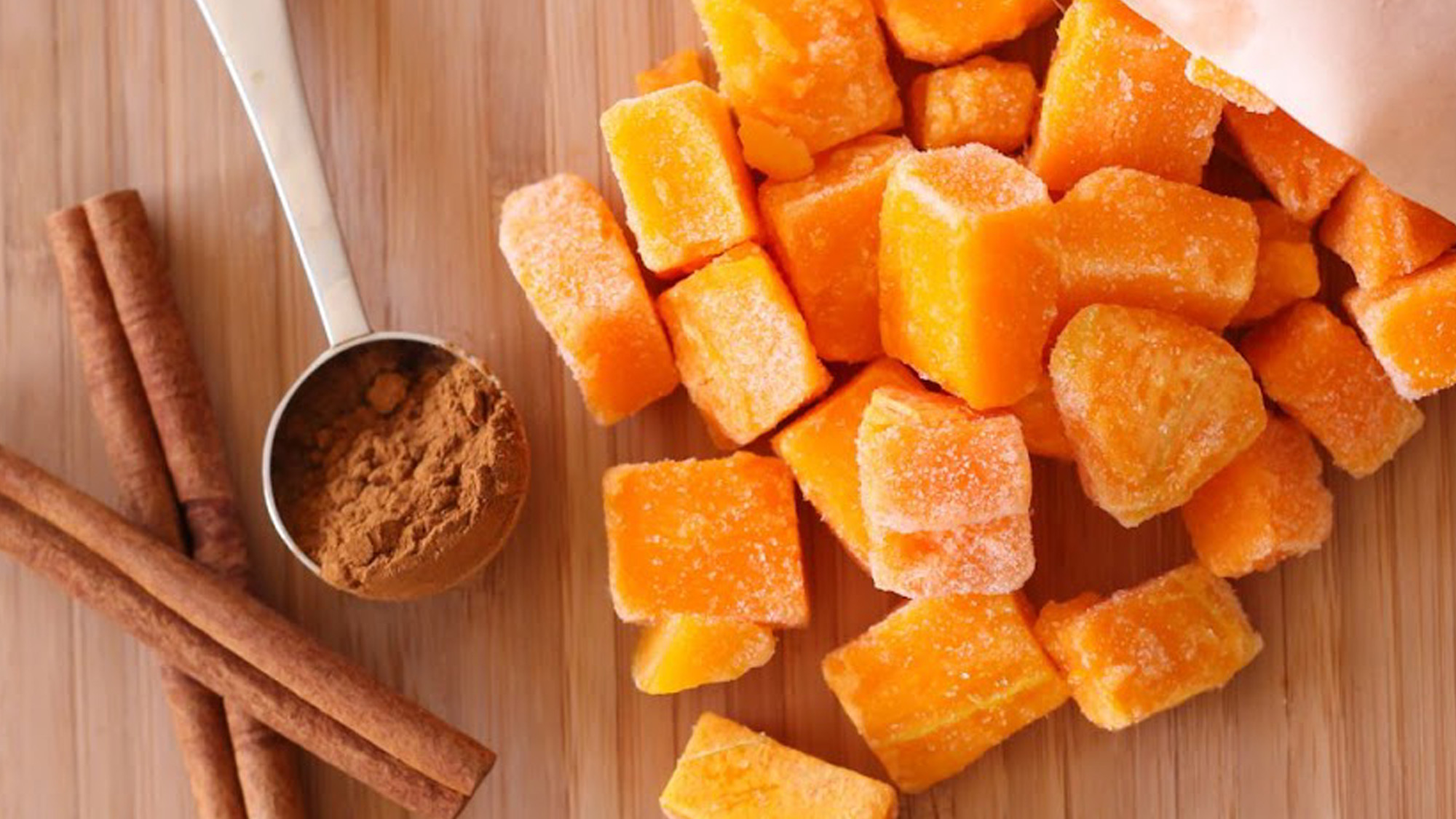 While we're on the topic of minimal effort meals, can I let you in on a little secret? I used frozen butternut squash cubes for this smoothie. I know I could have peeled, seeded and diced up a whole squash, but sometimes you're in a pinch and don't have much time to spare, right? Right.
In addition to the frozen squash cubes (which also help to thicken the smoothie and reduce the need for ice), I've added a scoop of vanilla Vega® Protein & Greens to add a few extra servings of veggies. The 20 grams of protein will help to keep you full for hours, making this a perfect, nutrient-dense plant based breakfast for a cool fall or winter day.
Ingredients
1 serving Vanilla Vega® Protein & Greens
1 frozen banana
1 cup cubed butternut squash (your choice of fresh or frozen and pre-chopped to save time)
1¼ cups Silk® Unsweetened Original Almondmilk
1 tsp cinnamon
¼ tsp nutmeg
Ice cubes, as needed
Preparation
Add all ingredients except for the ice to your blender and blend until completely smooth.

Toss in a few ice cubes and continue blending, adjusting the thickness by adding more if you wish.

Pour into a tall glass and garnish with an extra sprinkle of cinnamon, then serve.