Blend, freeze, slice, and scarf. That's how easy this cake is! We love this new plant-based cheesecake recipe by Tess Masters in her new cookbook The Perfect Blend. Once you have your cashews soaked (essential for a righteously creamy consistency), this decadent dessert takes less than 15 minutes to put together. Add the lemon and poppy seeds for an awesome twist and a drizzle of strawberry sauce to up the indulgence.
Reprinted with permission from The Perfect Blend, copyright 2016 Tess Masters. Published by Ten Speed Press, an imprint of Penguin Random House LLC.
Photography copyright 2016 by Anson Smart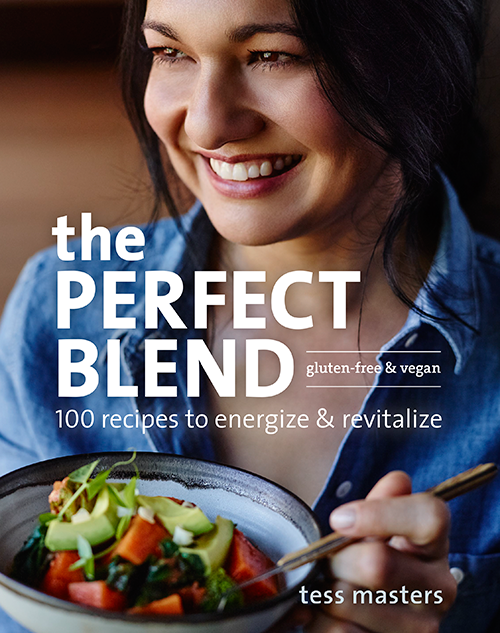 Ingredients
Crust
1 cup raw whole almonds
1 cup firmly packed chopped pitted dates, plus more as needed
Filling
¾ cup coconut oil (in liquid form)
½ cup full-fat canned coconut milk (shake, then pour)
½ cup fresh lemon juice
½ cup pure maple syrup
3 cups raw unsalted cashews, soaked
2 Tbsp French Vanilla Vega One® All-in-One Shake
1 tsp natural vanilla extract
Pinch of salt
1 Tbsp finely grated lemon zest, plus more to taste and garnish
1 Tbsp poppy seeds
Sweet Strawberry Sauce
¼ cup coconut water
½ cup firmly packed pitted dates, soaked
2 cups hulled and halved fresh strawberries
1 Tbsp fresh lemon juice, plus more to taste
Pinch of salt
Preparation
Cheesecake

To make the crust, grease a 9- or 10-inch (23 or 25cm) springform pan with coconut oil.
Process the almonds and dates in a food processor until the mixture is well combined and clumps together. Form the mixture into a ball; if it doesn't hold together, you may need to add a bit more chopped date and process again. Press the mixture into the bottom of the prepared pan and set aside.
To make the filling, throw all of the ingredients into your blender in the order listed, excluding the poppy seeds, and blend for about 1 minute, until rich and creamy. To achieve the smoothest filling, stop the machine periodically and scrape down the sides of the container.
Add the poppy seeds once the filling is completely blended, and then blast for just a few seconds to combine.
Pour the filling into the crust. Cover the pan with aluminum foil and freeze the cheesecake for 6 to 8 hours, until solidified.
To serve, transfer the pan from the freezer to the fridge and defrost for about 30 minutes. Gently release and remove the sides of the springform pan, and then cut the cheesecake into 10 even slices with a very sharp knife.
Keeping the slices together on the springform pan bottom, return the cheesecake to the fridge to continue defrosting for another 30 minutes before serving. Serve the slices plain or drizzle each one with 2 tablespoons of the Sweet Strawberry Sauce.

Sweet Strawberry Sauce

Throw everything into your blender, and blast on high for 30 to 60 seconds, until smooth.
This sauce will keep in the fridge for about 5 days.