Originally posted on Faring Well.
We can't say no to chocolate puddings. Blogger Jessie Snyder brings an innovative dessert dukkah mix (Egyptian spice blend of toasted nuts and seeds), into this chocolate avocado pudding recipe. As she said, "Perfectly sweet and chocolatey, you would never guess this pudding has nutritious ingredients, without processed sugar. Topped with whipped coconut cream and a sweet dukkah mix, this dessert will curb your sweet tooth and make your taste buds oh so very happy."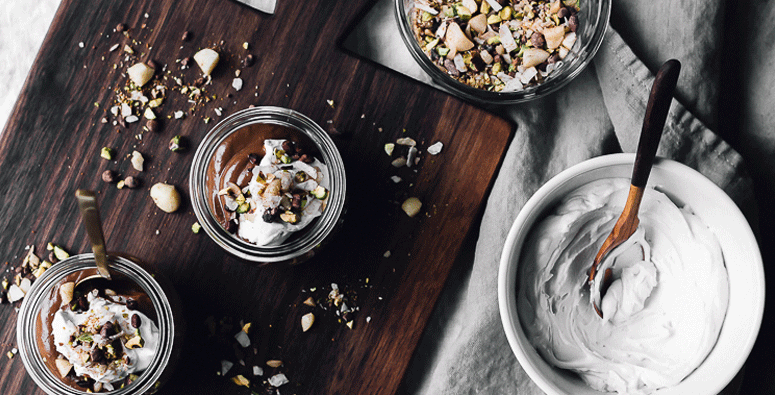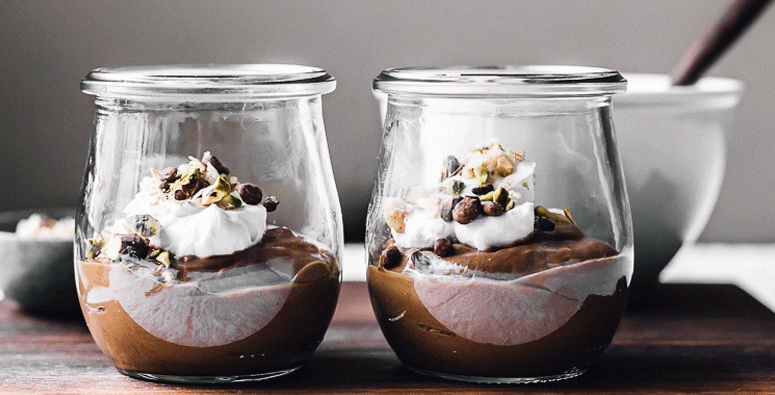 Ingredients
Pudding Ingredients :
1 medium avocado
2 Tbsp cacao powder
Pinch of cinnamon
½ tsp vanilla extract
½ cup plain almond milk
2 Tbsp maple syrup
Dessert Dukkah :
¼ cup raw macadamias
¼ cup raw pistachios
2 Tbsp raw cacao nibs
2 Tbsp dried coconut
1 tsp coconut sugar
¼ tsp cinnamon
Whipped Cream :
1 can full fat coconut milk chilled
Drizzle of maple syrup
Preparation
Pudding

Make the pudding by blending all the pudding ingredients together and then chilling until ready to serve. Place in airtight container and eat within 1 day.

Dukkah

Make the dukkah by roughly chopping the nuts (for a coarser texture) or whirling them around in the food processor (for a finer texture).
Toss with the remaining ingredients and sprinkle on all things dessert dukkah worthy, such as this whipped cream topped pudding. Store extra in an airtight container in the pantry.

Coconut Whipped Cream

Make the coconut whipped cream by chilling your can of full fat coconut milk for 24 hours, or longer, to allow the cream to separate from the coconut water.
Open and scoop out the thick cream, transfer it to a bowl you have had chilling in the freezer (for at least 10 minutes before whipping), and whip with a beater for 4 to 5 minutes (or until nice and fluffy).
Add a drizzle of maple syrup while beating to sweeten the cream a bit. Serve right away or store in an airtight container in the refrigerator until ready to use. It may thicken/harden more in the refrigerator and require a few minutes of thawing on your countertop before serving. Best if used within 4 to 5 days.

Assemble Pudding

Top your pudding with coconut whipped cream and dessert dukkah and enjoy!