We're on mission to empower the world to thrive. And sometimes that means focusing close to home. This summer two teams of Vegatopians at Vega HQ in Burnaby BC, worked with the not-for-profit organization motionball on the 2017 motionball Marathon of Sport Vancouver presented by VEGA, where 24 teams of young professionals joined with local Special Olympics British Columbia athletes and together, they competed in a variety of sports including basketball, football, soccer, beach volleyball and more!  Raising over $13,000 individually, these Vegatopians not only showed up to play on the day of, but committed to supporting the Special Olympics Canada Foundation in the months prior.  This is a cause we believe in at Vega HQ, and we have some tips to share about fundraising that can be applied to any cause, organization, foundation or charity you personally support:
1. Look Beyond Monetary Donations
For his third year participating with motionball, this year Alex, Inside Sales Manager was the co-captain of the Vega team. "Last year we raised $6000 so my job was to be more strategic this year, forecast our fundraising events, push everyone to hit their targets, and provide regular updates with the team. We more than doubled the amount we raised last year; we had a great group of people, with some really amazing ideas, who really took ownership of their tasks. Hosting a silent auction in the office was a huge success. We used the resources of Vegatopians to auction off. So there was 1-on-1 fitness coaching with a personal trainer, a portrait session with a photographer, White Caps tickets, a Whistler cabin for 2—all from the staff here and their connections. That raised over $1800 alone.  By asking coworkers, friends and family about skills and resources they can give instead of just money, you can gain a lot in your fundraising efforts.
"Sports in general, mean a lot to me. They teach you a lot: humility, teamwork, ownership. And these sports at Marathon of Sports support such a great cause. You know you're doing something that's really great, AND you get to play sports."
2. Rely on Your Team and Stay Unique
Dwayne, Credits and Collections Specialist has been co-captain for 2 years in a row.  "It's important to have balance on your fundraising team. Alex and I balance each other's strengths and weaknesses well as co-captains. Alex is organized, good at planning and holding people accountable. I provide motivation, emotional support and get things done.  Once you have that balance, be unique with your fundraising ideas. I think it's helpful to give people donating something to eat or do rather than just asking for a donation, because there are plenty of organizations vying for dollars. I loved the Trivia Night we did because you got a (veggie) burger, and beer, and a fun night, with all the proceeds going to motionball.
"My favorite part of the experience is the connections with the Special Olympians. And this year it's been fun to stay connected with them after the event via Facebook. We're hoping to have them down to HQ for a smoothie or lunch in the very near future."
3. Overcome the Awkwardness of Asking for Donations
Melia, Employee Experience Coordinator got creative to raise her individual contribution. "As a team we did group fundraising—everything from a BBQ where people  paid $10 for a veggie burger, drinks, salads, desserts, to bake sales, and Trivia Night downtown. Additionally, every Vegatopian involved had to fundraise at least $250. I am so bad at asking people for money, so since my birthday was coming up, I asked for donations instead of birthday presents.
"This was my first year being involved with motionball. I had so much fun and felt so humbled after. We lost every single game, but I've never had so much fun losing before. It was great to be out there, giving back and encouraging everyone.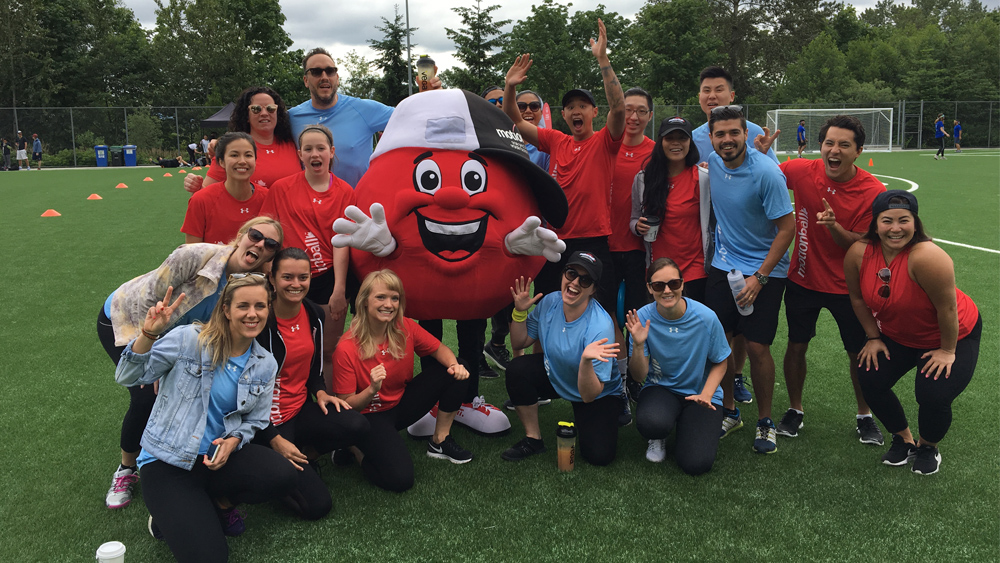 4. Make Fundraising Competitive
Giselle Batton, Warehouse and Transportation Team Lead found a little friendly competition helped with raising money. "Our pie-in-the-face fundraiser at Vega HQ went really well, because we focused on competition and buzz. We had three empty Vega tubs for each department. Each department picked three nominees, and the person with the most cash would get pied, and the one with the least would do the pie-ing. So right up in the last 15 minutes we had people shoving money into their coworker's tubs, just so they wouldn't get pie-d!  We also realized quite quickly that IOUs were necessary—no one carries cash anymore! We also allowed people to deduct donations straight from their paycheck which streamlined the process immensely"
"I have a 17 year old son, and he came and played with us on his birthday. I loved that motionball was something I could do with my son, a day of fun and giving back together. After we were done, my son said, 'It was fun even if we didn't win; we'll try again next year.' It moved me on that day, that this teenager would give up his birthday, his weekend to give back, because usually you have to choose either/or between work and family. The whole event showed me that with a little simple effort, it can make someone's day. Everyone has struggles, and some times it's better to concentrate on someone else's struggles. The positivity is what you get out of that day. You want to help more, and it moves you forward.
5. Get All Levels of Your Organization Involved
Alanna, Executive Assistant. "I took on the BBQ with Melia and Haley, where we cooked a meal, and took $10 donations  (cash or IOUs) for a fun lunch. I also helped get buy-in from the Senior Leadership Team for the event, so that we could work on organizing and fundraising efforts during our 9 to 5 days. I love motionball because it's a type of teambuilding that fits so perfectly into the Vega culture. It's all about inclusivity, and it includes every body, in every way. I love helping Vega be present in our community, for people that really deserve it."
6. Find Out the Special Talents of Your Team
Bernadette, Accounts Payable Clerk "I helped Giselle and Jenn to organize two bake sales in the office. First we approached people we knew were bakers, and asked them to bake for us. Then bakers started appearing out of the woodwork. Everyone was so great. We offered to reimburse ingredients for bake sale, and most of the people rejected that, saying it's my donation.  Play to your strengths, and find out the special talents of people on your team.
"I love motionball because it's an opportunity to be more involved with the office culture, and it's so much fun to play sports with Special Olympians. They have such energy, and competitive spirit, it's contagious!"
7. Keep it Fun
Mia, Account Receivable Manager has participated in motionball 2 years in a row. "As a family, volunteering in our community is something we prioritize. Giving back needs to take up at least 10% of my time and energy, and I want that standard for my family. My recommendation is to find something that's fun for you to be in engaged in. I wouldn't volunteer if I didn't enjoy it. It's all about encouraging other people to get involved and teaching them to enjoy contributing. I get a lot back from it–it's not just selfless."
This year I brought my daughter Sophie (age 12) along, as an opportunity to teach her who our amazing Special Olympians are.  I learned more from those athletes, than I gave them. I find them hugely inspiring, and they teach us to be humble and respectful."
What have you found to be an effective fundraising strategy?