Making (and eating) lunch just got a lot more fun with these colored rice balls. Pack them in your kid's lunch-box, add them to a bento box, or have one as an afternoon snack.
Use this recipe as a guide and feel free to make it your own. Want to make them with brown rice? Sure. The color just won't be as vibrant. Not a fan of carrots but love the idea of colored rice? We've got you covered.  Using the same rice to liquid ratio, turn your rice red with beet juice or green with the juice from blended and strained peas.
Is it Halloween? Make Jack O'Lantern Rice Balls!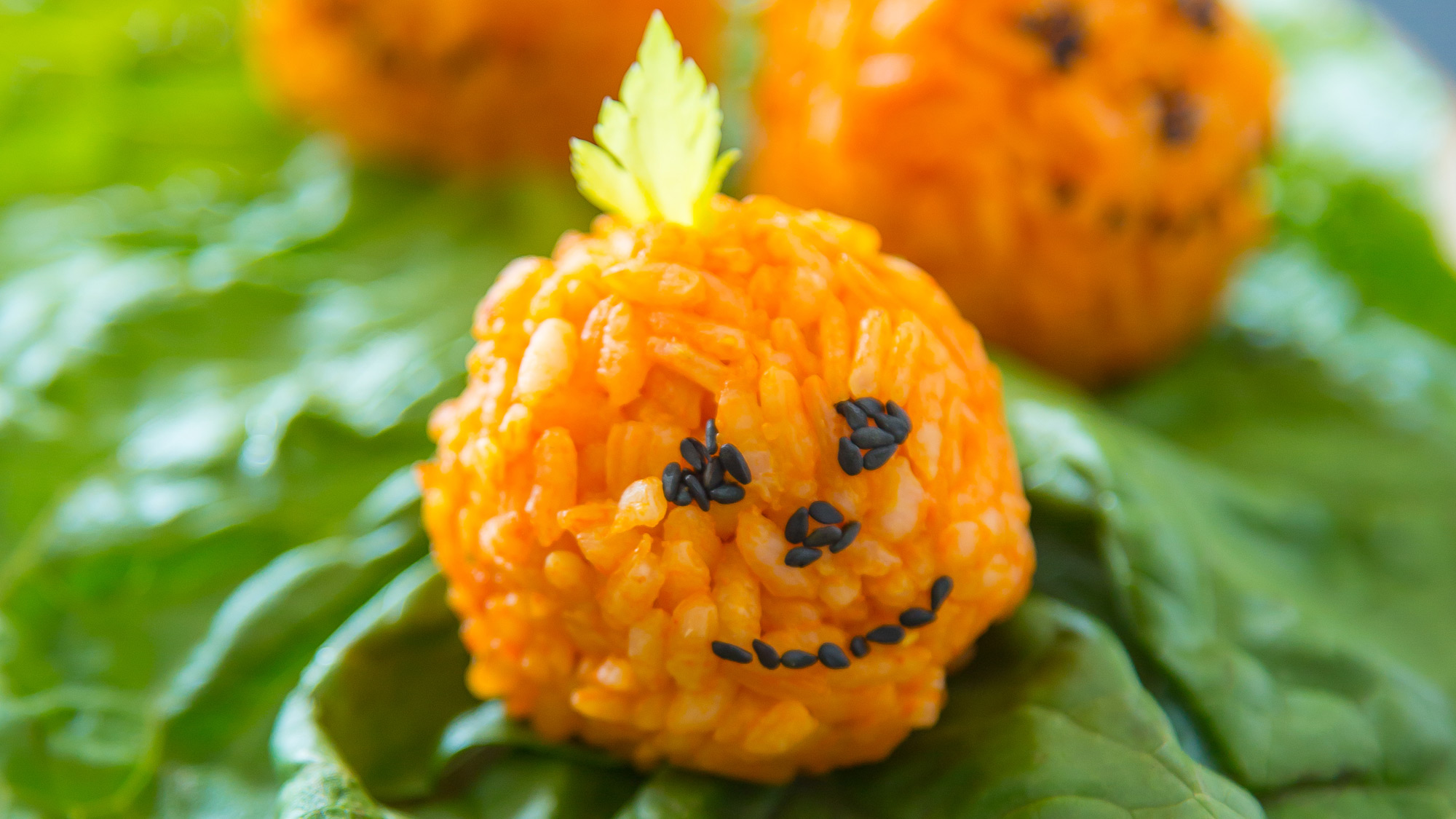 Ingredients
1 cup short-grain or medium-grain white rice
1½ cup carrot juice
½ cup water
½ tsp salt
Optional for Halloween:
¼ cup black sesame seeds
Bunch celery stalks
Generous handful of chopped romaine lettuce
Preparation
Measure and rinse the rice.

Bring water and carrot juice to a boil.

Stir rice and salt into the boiling water. Bring the water to a gentle simmer.

Turn down to low and cover pot for approximately 15 minutes (approximately 30 minutes for brown rice), until liquid is absorbed.

Turn off the heat, remove the lid and fluffy lightly with a fork.

Let the rice dry and cool slightly before forming it into balls (if the rice sticks to your hands lightly rinse them with water).

Serve them as is or make fun holiday treats by turning them into pumpkins or Jack o' lanterns:

Pumpkins: Slice celery stalks (keep the leafy tops on) into stems. Press into the top of the formed rice balls. Serve on a bed of lettuce for a pumpkin patch theme.
Jack o' lanterns: Create faces with the black sesame seeds. Press into formed balls with celery stem.