No matter how much you enjoy being in the kitchen, weeknight dinners can weigh on you starting Sunday night. We asked some of our favorite bloggers who are busy parents, dietitians, and nutritionists how they take the dread out of weeknight dinners.
But first, smoothie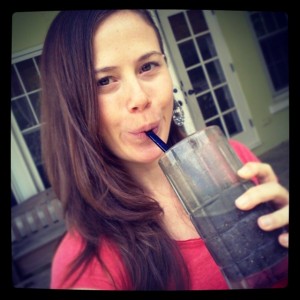 "When you get home after a long day, and you're feeling exhausted, the last thing you want to do is start cooking right away. That low energy time is when you're most likely to turn to take out, packaged dinners, and junk food. Here's how to take back your energy so you can prepare a wholesome dinner for yourself and your family: have a healthy snack on hand, ready to go, so you can recharge before hitting the kitchen. Three ideas: a Vega® Essentials smoothie, some hummus and cucumber slices, or some dried fruit and nuts." – Heather Nicholds, RHN
2. Plan for success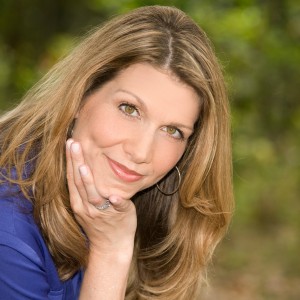 "For busy working parents, planning ahead is key for managing weekly dinner mayhem. We meal plan each weekend and really take a look at everyone's schedule. We plan weekend dinners, leftover nights, and nights out to dinner so we don't overspend on produce. We also make double portions and freeze the extras if we are in a hurry, we always have something pre-cooked we can thaw out. Plan, plan, plan ahead and not only will you trim your budget but your waistline too!" -Kristen Hewitt – Mommy in Sports
3. Hot (sweet) potato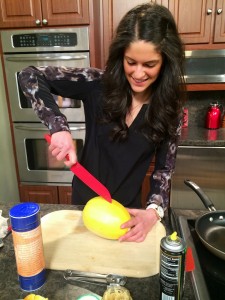 "When in doubt, use a baked sweet potato as your foundation and load 'er up! Pierce a couple sweet potatoes with a fork a few times and bake for about an hour at 400F, or until soft. Store them in the fridge and then when dinner rolls around, get creative! Top with black beans, salsa, and avocado for a Mexican twist, or almond butter, banana, and lots of cinnamon to satisfy your sweet tooth. Sweet potatoes are packed with fiber and beta carotene (vitamin A), plus the topping possibilities are endless!" -Alexis Joseph, MS, RD, LD – The Hummusapien
4. FREEZE!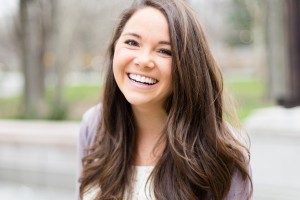 "My biggest tip is to always have frozen veggies and veggie burgers on hand. Frozen veggies are full of good nutrition and they keep for much longer than fresh. So when life gets busy you can roast [yes, roast!] frozen broccoli and green beans in coconut oil, pop a high quality frozen veggie burger in a pan on the stove [look for burgers with whole food ingredients and avoid soy when you can] and eat the burger on a slice of sprouted grain bread or with quinoa and top with a healthy fat like avocado or tahini. And just like that you have a meal in under 20 minutes with minimal cleanup that includes protein, fat and carbohydrates!" Robyn Coale, RD, RN – The Real Life RD
5. Take it slow (cooker)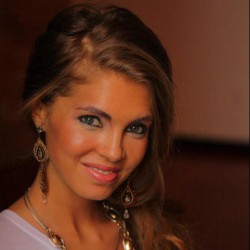 "My number one tip for mastering weeknight dinners to get yourself a slow cooker, whether that be a small, single serving one or a larger one for you and your family. I use my mini 2 quart slow cooker every single day by placing soaked and rinsed whole grains (rice, quinoa, amaranth or even steel cut oats) and/or legumes (peas, lentils or beans) inside with at least 1 cup water per 1/4 cup grains and legumes. Then I add in frozen or fresh veggies and maybe some greens, root veggies, herbs and spices, and pantry items like canned tomatoes, canned pumpkin, artichoke hearts or anything else on top of the grains and legumes. Add just enough water where it almost covers the ingredients, stir to combine, and cook it all together on low for around 6-8 hours while you're at work. And there you go … dinner is done!" -Heather McClees – The Soulful Spoon
6. V for Veggie Victory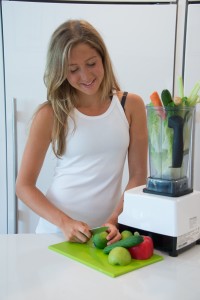 "The key to weeknight dinner is all in the prep! Everyone knows they should be eating vegetables every meal but it can be hard to have fresh vegetables in your home every night. So I always recommend keep your freezer stocked! I have loads of frozen fruits, vegetables etc…they are so versatile and can even be used for your morning  Vega® Essentials smoothie. Plus it's cheaper and no need to clean and cut! Simply steam or roast and you have a perfect component to your next weeknight dinner. I have even spotted cubed frozen sweet potatoes and butternut squash in Walmart!" -Lottie Bildirici – Running on Veggies
7. Stay in season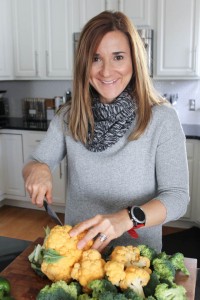 "Use seasonal produce because it requires less manipulation to bring out the best flavors and is the most cost effective for your budget.  Roasting or grilling is easiest with a small amount of olive oil and some of your favorite herbs.  Pair seasonal veggies with brown rice or quinoa that you can prep ahead and you have a flavorful and healthy meal in minutes.  Leftovers are perfect for packable lunches too." -Robin Runner – Knead to Cook
8. Definitely defrost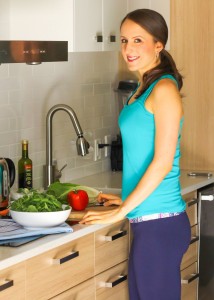 "My secret weapon for mastering weeknight dinners is always having a bag of frozen vegetables in my freezer. Asian-inspired stir fries are one of my favorite healthy meals, and with mixed frozen veggies, I don't have to worry about peeling, washing or chopping. I'll often set the bag in the fridge before I go to work in the morning so that by the time I come home, it's fully defrosted. Then it's just a matter of stir-frying them in a big wok with some seasonings and a protein source like chickpeas, edamame or tofu. Voila—dinner is on the table in less than 15 minutes!" Angela Simpson – Eat Spin Run Repeat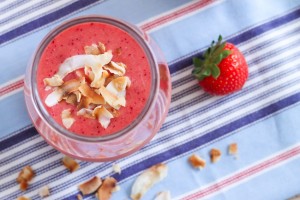 9. Who's number one? One pot meals!

"The last thing I want to do after a long day at work is to dirty a whole bunch of dishes! My number one tip for quick, healthy and easy weeknight meals is to experiment with one pot, simple, throw all your veggies you have on hand, one pot meals! I live off one pot meals during the week. I like to experiment with different spices and what I can find in the fridge. Frozen veggies also work if you are in a pinch and don't want to chop vegetables after work. And make sure to make enough to save for leftovers the next day." Ceara Copps-Edwards – Ceara's Kitchen  Start with Basil Tomato One Pot Meal or Thai One Pot Pasta
10. Leave perfectionism at the door
"My tip would be to not try to get too fancy! There are plenty of delicious meals that are SUPER simple and not require a recipe. Keep some quick cook or frozen rice on hand, roast a bunch of vegetables on Sunday evening, and quickly prepare a protein like tofu. Spice it up with one of your favorite sauces from your pantry (keep spaghetti, teriyaki, curry sauce etc. on hand. ) It can come together in just 10 minutes!" -Clare Brady – fitting it all in
How do you make weeknight meals doable?