No matter how much you love your family, friends, four-legged children, work, volunteer commitments, and city, it's normal to get overwhelmed and stressed out. Stress is a mainstay in most modern lives. We're all a little bit different in how we react to stressful situations, or proactively strive to reduce stress. Four Vegatopians share their top methods for not only reducing stress—before, during and after the going gets tough—but finding their optimal balance or "flow."
Step away from your phone
Morgan Dunn, Digital Marketing Coordinator, goes back to the old school, and keeps a real calendar. "I need to know what's coming up and what needs to be done. I work hard to not overbook myself between work and personal engagements. From there I can put in the things (like running and yoga) that help me with stress; I have to schedule it in. I'm doing a meeting with myself. I don't bail out on it, and I can plan things around it."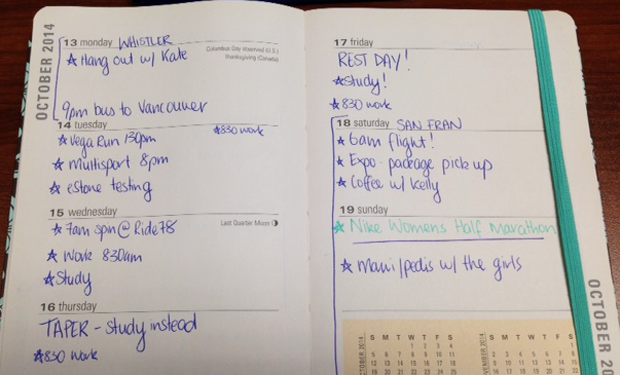 As a digital marketing expert, the next thing Morgan does to manage stress and find her flow might sound strange: "Once a week I do a digital detox. No email. No social. I completely walk away from technology. All day Saturday or all weekend, I'm not looking at my phone, not looking at a computer, nothing. I invest myself completely in time with my friends and nature. I started doing tech breaks about a year ago. I have a career that involves being online all the time, always connected, and I really never break away from it. Even after work, I'd check my own Instagram afterwards; it was starting to feel like I could never get away. It felt important to get time away so I can get back feeling refreshed." Read more here about how to do a digital detox.
Make time for me time
Digital Engagement Coordinator and improv comedian Jamieson McCormack works 20 hour days to fit in work-work and her improv workshops, shows, and practice. "My schedule is like this right now: 5AM gym workout, work all day, leave, drive, eat, improv workshop, improv show, go home go to the sleep, wake up and do it all again. It's a little stressful. The way that I've been managing stress is by making sure I have time for myself. Even if it's just getting a workout in, feeling like I did something good for my body takes a huge stress off.  I also make time to see how my coworkers are and laugh with them. Those moments when you get to share a look or a story and get a laugh is fun and bonding. My all-time favorite way to distress is singing in my car. The world would be happier if everyone sang in the car while going to appointments or meetings that you don't want to. My favorite songs to belt out are 'Fat Bottom Girls' by Queen or 'Don't Stop Me Now' by Queen. Finally, when I get home I make sure to put away my clothes (no one wants to spend the weekend cleaning), turn off electronics, turn on some music and light a couple candles so I can get a good night sleep and be ready for tomorrow."
Move and breathe the fresh air
Letting go of the concept of perfect days has made work smoother for Chuck Sapienza, Account Manager. "The biggest thing I've learned recently is to not stress out about making my days as efficient as possible. Being perfectly efficient and on time just doesn't happen always. It's ok to not be perfect. I spend more time and energy coordinating my perfect schedule. I'm learning to just go with the flow." Movement is a big part of how Chuck decompresses. "I need physical activity. If I go to the gym first thing in the morning, I don't mind sitting in traffic. But if I don't go to the gym, I freak out in traffic. It makes everything else so much more tolerable. Even if it's just a quick yoga class or 45 minutes in the pool or a quick powerlifting session, moving makes a huge difference. I also make sure to go outside in the middle of the day for fresh air and sunshine with a 10 minute meditation. It help with my sleep rhythm, my mood and my outlook for the day.
Don't sweat the small stuff (and know what's big stuff)
Mia Finn, Accounts Receivable Manager, is part of a very busy family. Both her and her husband work fulltime and she's involved in four non-profit organizations at an executive level. Oh, and she has two young children (ages 4 and 9). "We're a good reflection of modern families. Most families I know have two working parents with busy kids. Everyone manages differently, but we all find ways to keep 10 balls in the air at once. One way I have gotten through hard days is by learning to pick my battles and not sweat the small stuff. You can't stress over little things or you won't be able to cope. For me, how the house looks is small stuff. Whether my kids have the latest fashion is small stuff. Whether my hair is grey is small stuff. Our emotional wellbeing is the big stuff. The ability to find joy in your day and in your life is the big stuff. Finding activities that make my soul happy is the big stuff. Working in a company where I feel good about myself, my job and the ethics and values of the company is the big stuff. Taking time for yourself is the big stuff. You have to prioritize."
How do YOU de-stress?