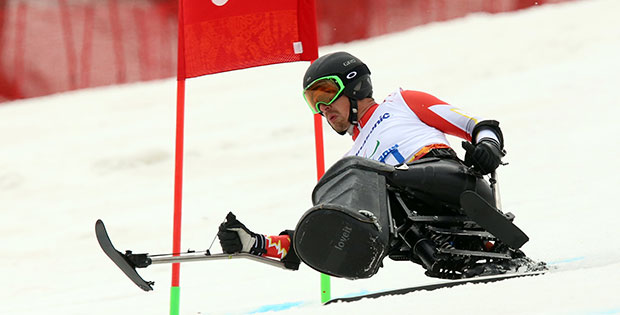 All images sourced from Canadian Paralympic Committee.
Vega Ambassador Josh Dueck has wanted to be an Olympian since a very young age. However, a spinal cord injury left him paralyzed from the waist down doing what he loved most—skiing. Through his recovery, Josh has constantly broken down barriers, leading him to a successful trip to Sochi, Russia for the 2014 Paralympics. Josh brought back to Canada a Gold Medal in Men's Sitting Super-Combined and a Silver Medal in Men's Sitting Downhill. We had a chance to talk with Josh when he got back about these accomplishments.
Interview with Josh Duek
Congrats again on your incredible performance at the Paralympic Games! What was your favorite part about the games this year?
"It's an honor to be part of something so big—our country comes together, our entire world comes together. The best moment of the Paralympics this year for me was being told that I was going to be the flag bearer for the closing ceremonies.  That was seriously one of the greatest moments of my life, I was (and still am) vibrating from the whole experience of that day."
In your words, what does it mean to Thrive?
"I'm thriving when I'm flowing. When I'm flowing I'm in the moment. When I'm in the moment things come effortlessly. Thriving is a product of a lot of hard work and preparation—mentally, physically and spiritually to be present and open to the possibility of the moment."
What's your favorite mountain to play on?
"The most fun I've had is out at Chatter Creek Cat Ski in the Rocky Mountains."
How do you psych yourself up to compete?
"My daily intention is to operate out of a space of gratitude. Before it's my turn to race I like to take some time alone to reflect about the opportunities that are present. When I get to the start area I think about connecting with the energy of the mountains and the sky.  I look deep into the horizon and take a few deep breaths and remind myself that this moment is a gift, and that these gifts are meant to be shared.  As I push out of the gate I say to myself, 'feel the snow, find the flow'."
So we're dying to know—what do you eat while overseas?
"I bring as much as I can over from Canada since sourcing good food in other countries can be difficult. In my line of work I end up spending more than half the year on the road, living in hotels and out of suitcases.  I have a kit of my favourite Vega products to make my time away manageable and my energy intake consistent. I pack Vega One, Vega Sport Protein Bars, Vega Sport® Premium Energizer and post workout recovery powder for all my travels. I also toss in some homemade vanilla protein granola, so I know I can start my day off well."
What's next for you?
"Now that Sochi has come to pass, I'm excited to get some quality downtime in with my wife and daughter.  We plan to do a nutritional overhaul after too many months of variable eating on the road. The summer months will be filled with as many adventures as possible (yoga, biking, camping, surfing, etc...)."
If you could say one thing to an aspiring Olympian, what would it be?
"The best advice I could give to a future Olympian is really understand why it is that you do what you do and what value lies in the process.  Deciphering your internal compass will help guide you through the trying times of being an athlete, which often are the greatest character-building opportunities."
My internal compass guides me between my curiosity of energy management in stressful situations, the ability to let go of all attachments (both positive and negative). Oh and of course the wonder and possibility of movement on snow.
Gain more inspiration from Josh by following him on Facebook or Twitter.