Get to know all the benefits of smoothies with this seven day smoothie challenge. Smoothies can be a fast and simple way to add more fruit and veggies to your diet. Not to mention can be satisfying way to get protein, fiber, vitamins and minerals, offering you a balanced start to your day.  Trust me, they will be most flavorful and simplest challenge you've tried in a while. Some days you'll even feel like you're having dessert for breakfast (insert all the hands-raised emojis here).
With five minutes and one blender you'll be eating well, saving time and falling in love with all the convenience and variety smoothies have to offer.
We'll start off the week nice and simple, because, well, Monday, and ramp the recipes up as the week goes on.  Don't worry, none of the recipes are crazy and you'll probably have most of the ingredients in your kitchen. If you don't believe me skip ahead to the shopping list at the end.
Ready? I'm ready! Let's start shaking things up.
First, Shop This List:
Check your pantry, fridge and freezer before you head to the grocery store. You'll probably have most of the ingredients you'll need for the week already:
Vanilla Vega® Essentials
1 bag frozen strawberries
1 bag frozen mixed berries
1 bag frozen mango
1 bag frozen pineapple
1 kiwi, peeled
4 bananas, frozen (take overripe bananas, peel them, and pop them in the freezer)
1 lemon
1 bunch of spinach
1 bottle of pure lemon juice (not from concentrate)
1 container Silk® Unsweetened Almondmilk
1 container orange juice
1 bottle cold-brew coffee
1 container vanilla non-dairy yogurt (I love So Delicious® Coconut Milk Yogurt Alternative)
1 jar natural peanut butter (or almond butter)
1 package oats
1 package cocoa powder
Ground cinnamon
Vanilla extract
Optional: granola, sliced frozen strawberries and sliced fresh or frozen banana, chopped peanuts, cookie crumbs, almond extract, slivered almonds, and toasted coconut
Let's get started:
Mocha Monday
It's Monday and you need coffee. I hear you. Start your week off with this Simple Mocha Shake, to get your coffee fix and enjoy a breakfast packed with 20 grams of protein.  This recipe is versatile; you can easily swap out Chocolate for Vanilla Vega ® Essentials and cocoa powder to taste.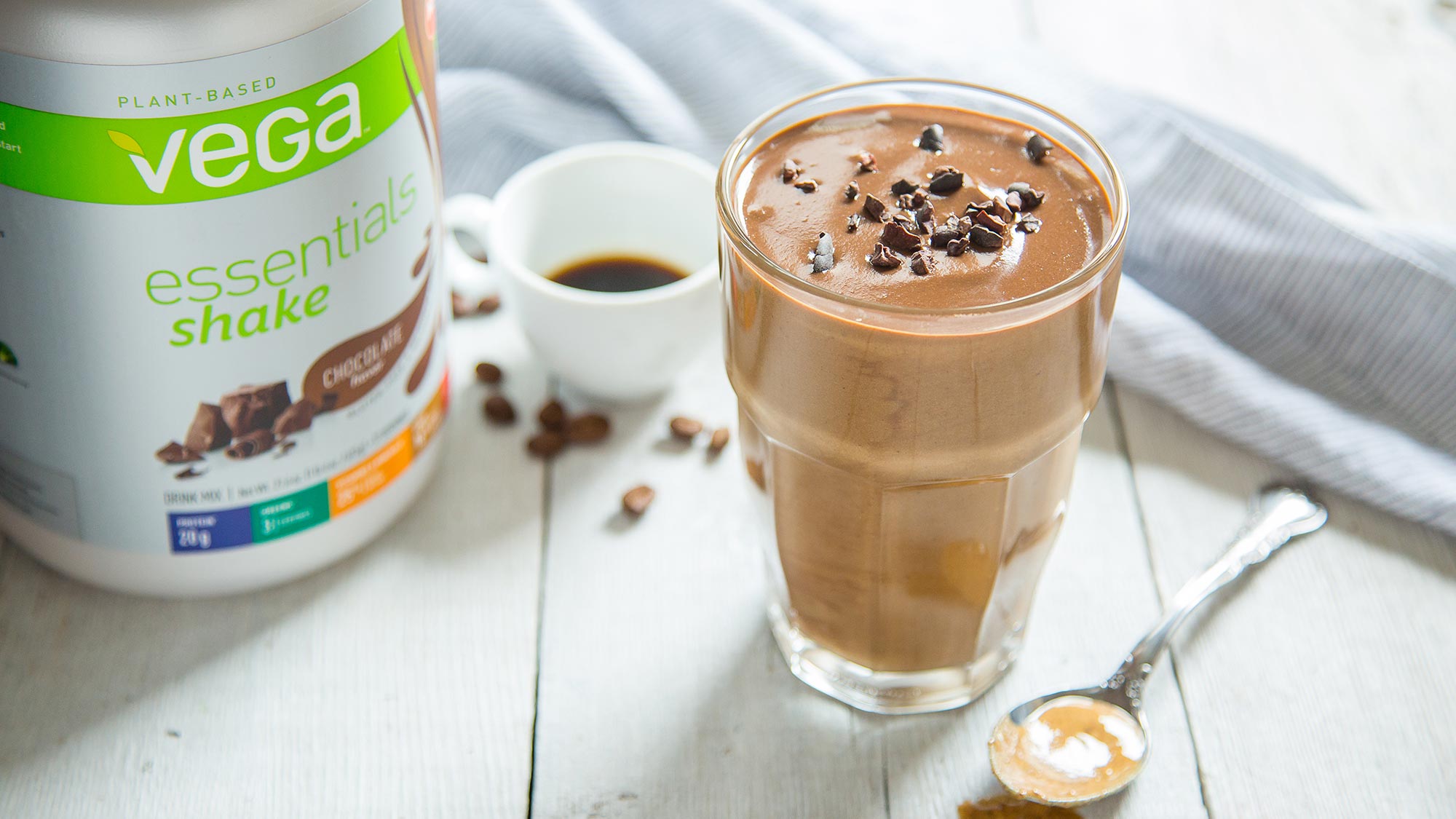 Tropical Tuesday
Take a mid-week vacation with a Simple Tropical Smoothie. You can enjoy more than 4 grams of fiber while sipping on a refreshing, fruity smoothie. Drink umbrella not included but highly recommended.  Feel free to substitute Tropical Vega® Protein & Greens for  Vanilla Vega ® Essentials.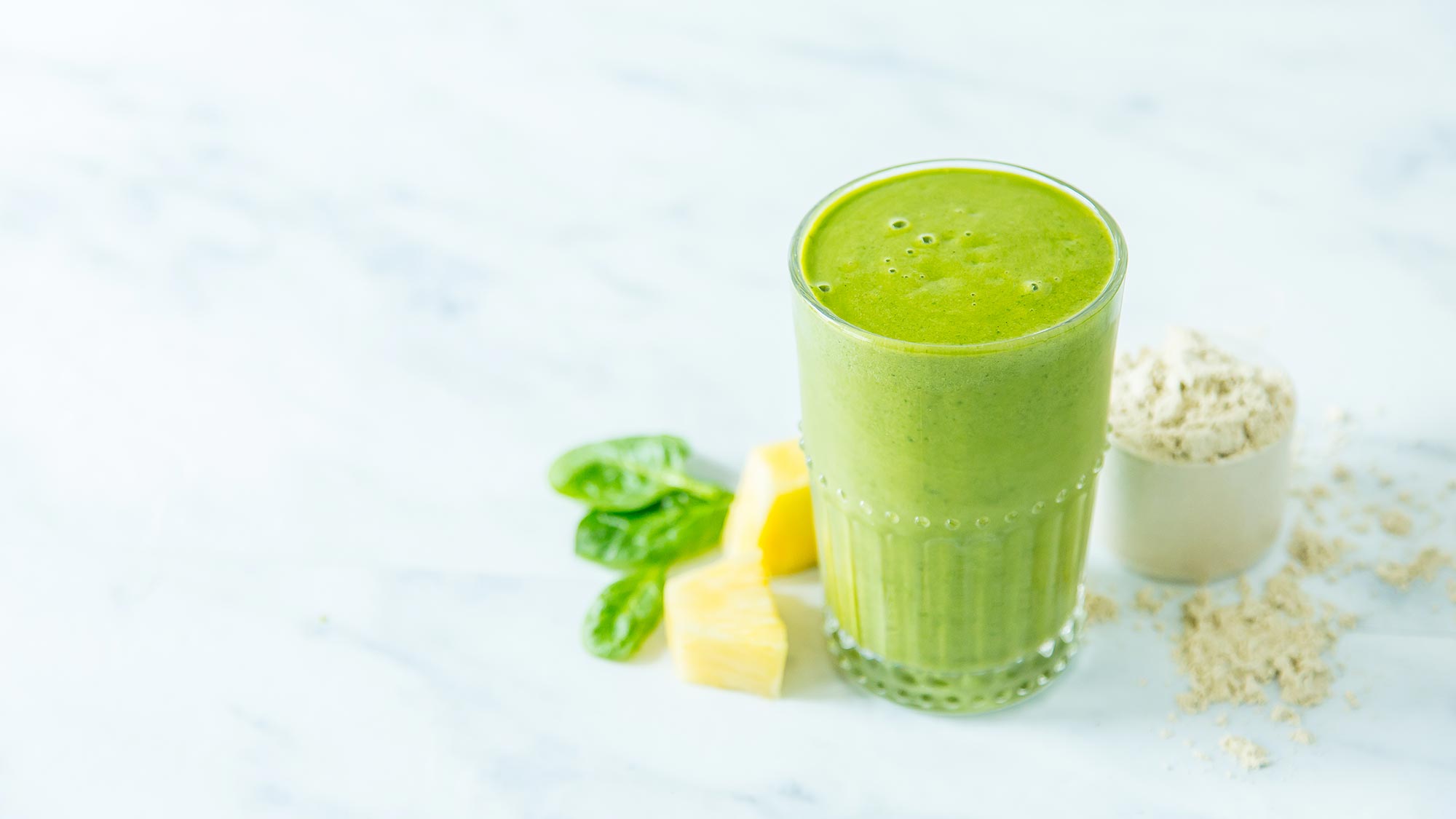 Berry Nice Wednesday
I'm currently obsessed with strawberries. This creamy Strawberry Kiwi Yogurt Smoothie is quick, easy and isn't helping cure my strawberry obsession. But it's so good that I'm ok with that.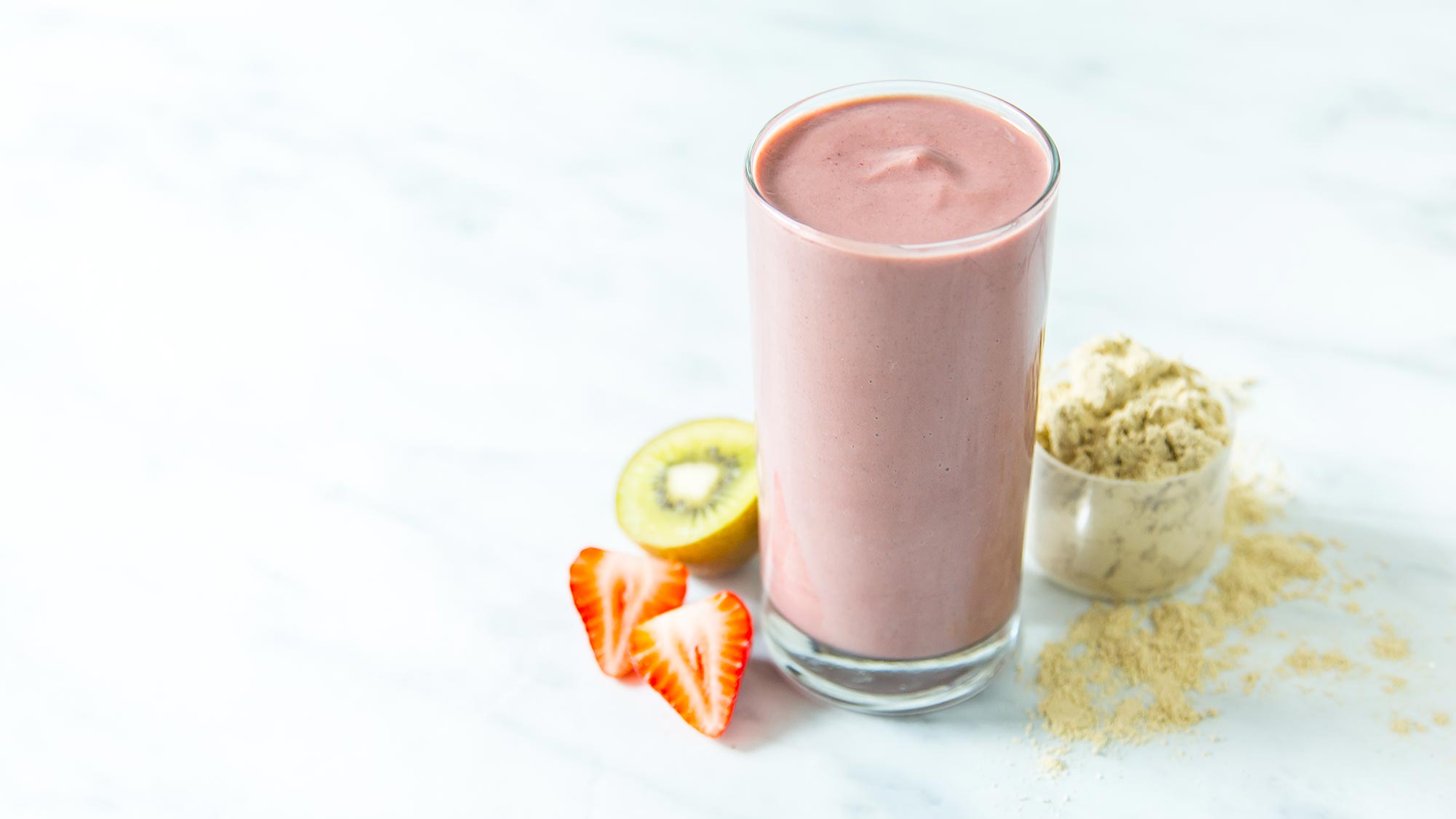 Thirsty Thursday
Five ingredients, more than 4g of fiber and 20 grams of protein, this berry smoothie helps to quench your thirst for 315 calories.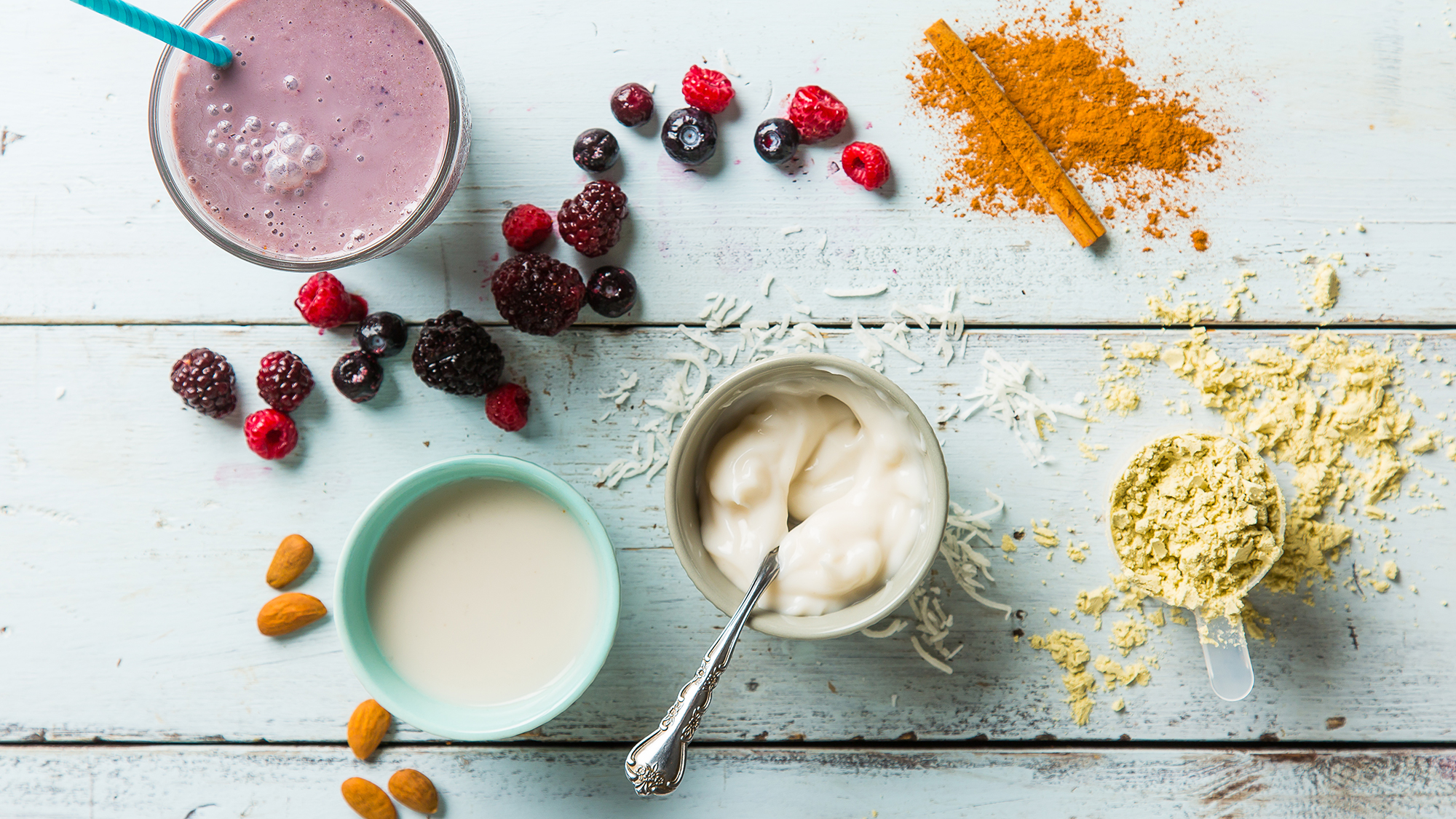 Feel Good Friday
Happy hour starts Friday morning with this Peanut Butter Cookie Smoothie. That's right, cookies for breakfast.  Enjoy the fresh-baked taste of peanut butter cookie with veggies and greens, and 25% of your daily intake of 13 vitamins and minerals. Happy Fri-yay!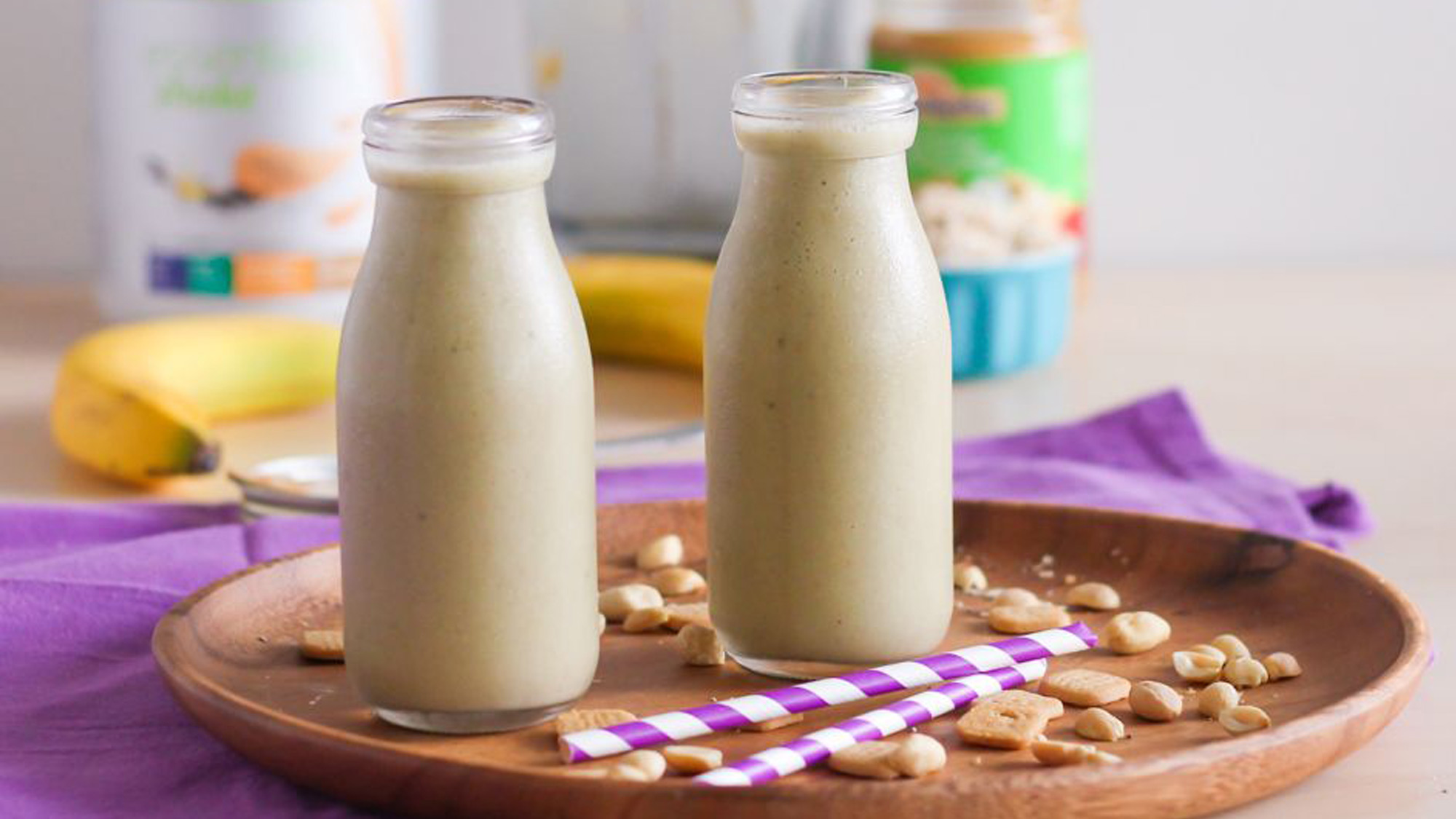 Takeway Saturday
Saturdays can be busy with family engagements, meeting with friends, and running errands. You name it. That doesn't mean your nutrition has to suffer. Take your simple strawberry smoothie on the next level by topping it with granola and fresh fruit then layer it in a Mason jar and take it on the road.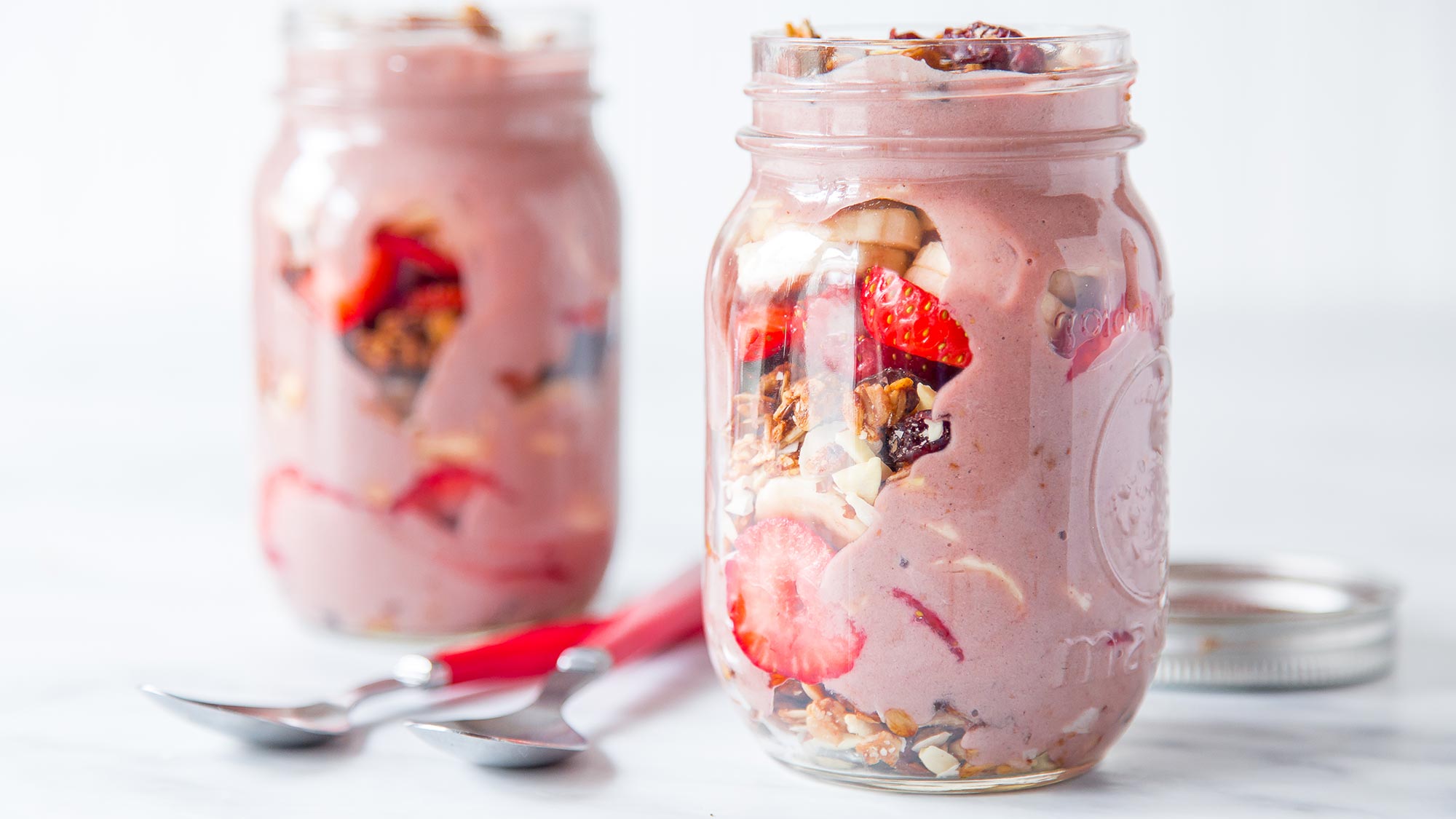 Treat Yo'Self Sunday
Life is a piece of cake? Sure, but I like to think of it more like a piece of pie, lemon meringue pie. Wake up your morning with the zest of lemon and wrap up your week with dessert for breakfast.  Protein and fiber never tasted so good. Yes, you can have pie and still help to give yo'self the nutrition building blocks to start your day.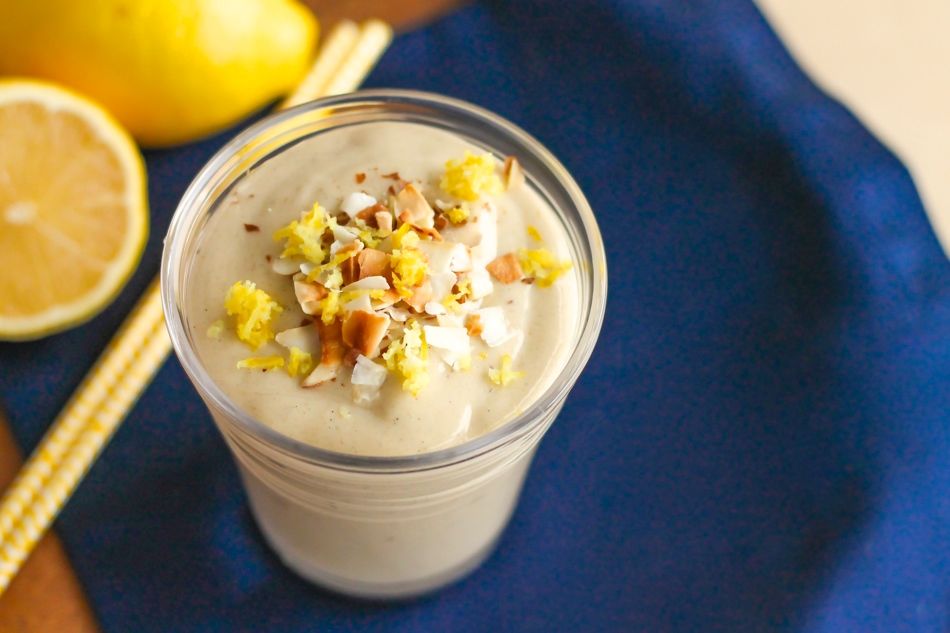 And just like that, your week was better blended. Challenge Complete. What will  next week hold?
Tag @VegaTeam on Twitter, @Vega_Team on Instagram or Vega on Facebook in your smoothie pictures so we can see how your challenge goes!