By Emily Toia a.k.a Run EMZ, Vega Blogger
I began running only as a way to maintain fitness but quickly I realized my love for it was growing with each mile. My first marathon was in 1999 where I finished with a time of 4:16. When I ran my next marathon 10 years later, I qualified for the Boston Marathon, and I knew I this running thing was for me!  Little did I know in 1999 when I started running, that by 2014 I would have completed over 30 marathons, participated in many ultra-marathons, and best of all, supported a number of charities by running 24-hour treadmill runs.
treadmill Fundraising Runs
Unlike other endurance athletes, I began training exclusively on a treadmill to help with the strain I felt in my knees and ankle. The stress to my joints is significantly less than running outside, and I can do it from home!  What could be better?? Not only do I love the convenience of running on a treadmill, but I also love the mental challenge and have found that when I move outside to compete, I'm filled with an exhilaration that is motivating.
While I have completed over 30 marathons and many ultra-marathons, my heart belongs to the treadmill charity runs. Running on a treadmill for 24 hours was the only thing I could think of that was big enough and challenging enough to help me raise the money for charity. In 2011 I ran my first 24-hour treadmill fundraiser to benefit the Sojourner Center for Victims of Domestic Abuse in Phoenix. In 2013 I flew from Phoenix to San Francisco to run my second 24-hour treadmill to raise money to support education initiatives in India for Effect.org. Running for charity is what makes me happy, and makes me feel like I'm using my talent to give back. Even when I PR (personal record) a race, I never get the same sense of satisfaction as I do knowing that my talent has helped other people.
BEcoming a plant-based athlete
In January of 2013, I was introduced to Vega® products by my dear friend Christina a.k.a The Athletarian. She sent me some samples, which I immediately fell in love with and the next step for me was seeing how plant-based foods could help me improve physically as a runner and increase my energy overall. Soon I could feel the changes start to occur.  By June, I was fueling exclusively with Vega Sport® products.  I was logging more miles than I ever had before and my body felt renewed—I loved it!
Plant-Based Treadmill Fundraising Run
In September of 2013, I participated in a 24-hour treadmill run in San Francisco for charity.  I was anxious and excited to see if my new Vega Sport® regime and plant-based diet would go the distance for me.  I couldn't wait to see the results. Not only did I run 8 miles further during this treadmill run but I completed the miles in 4 hours less!  I felt incredible. I truly believe that the use of Vega Sport® products and my plant-based diet were paramount to my success. I am recovering faster than ever, which for a runner is HUGE. I love showing people that you CAN eat plant-based and be a better ultra-runner.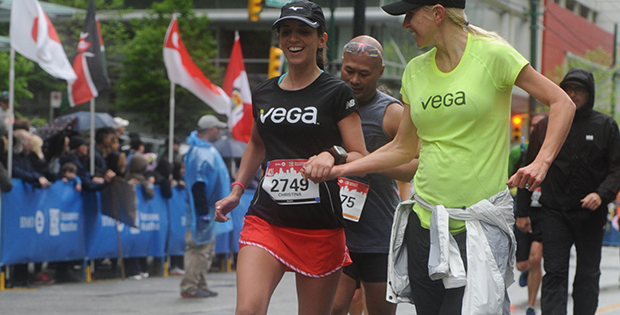 Moving Forward
Moving forward, my main motivation in becoming better is a healthy pregnancy—that's right, I'm having a baby! Since my body was used to high mileage training pre-pregnancy, my doctor is highly supportive of maintaining whatever exercise feels good to me, as long as I keep my heart rate in a specific range. What's important is that I listen to my body in order to stay healthy during and after this pregnancy. On the horizon for me as well is the 24-hour treadmill I'm running in April of 2015 for Autism Awareness.  You can be certain I'll be fueling with Vega Sport®.
Keep up with Run EMZ on Instagram or Twitter
What's holding you back from better? Overcome your challenges now with nutrition and training tips.