Gearing up to hit the road? Before you do, hit up the grocery store for road-worthy, packable, portable snacks so the only stops you'll need to make are for gas and the occasional photo opp. Handstands on the side of the road? Yup, you've got time for that.
Sandwiches
Everyone knows tuna salad is not a social food. You remember that kid in class who opened up their lunchbox and filled the room with fish stank? Don't be that guy and let that happen in the car. Enjoy the classic vibe of tuna sans the smell with this vegan tuna salad sandwich. If you're not a fan of tuna salad make a classic PB&J or throw together a basic veggie sandwich slathered with black bean hummus.
Fruit and Nut butter
What's easier than a PB&J sandwich? Fruit and nut butter. Fruit, like apples, bananas and berries are sources of fiber (to help you stay regular, yo). Pre-portion your fruit and nut butter or even better, if you have a half empty nut butter jar chop 1 cup of apples, dip them right in, close the lid and you're good to go with 3 grams of fiber from the apple alone.United States Department of Agriculture. National Nutrient Database for Standard Reference: Apples, raw, with skin. Retrieved March 6, 2016, from http://1.usa.gov/1QYeqYu
Veggies and hummus
Grab the cooler, load it with chopped veggies and homemade hummus. Sick of regular hummus? Try one of these three varieties or swap out chickpeas for black beans with this black bean hummus.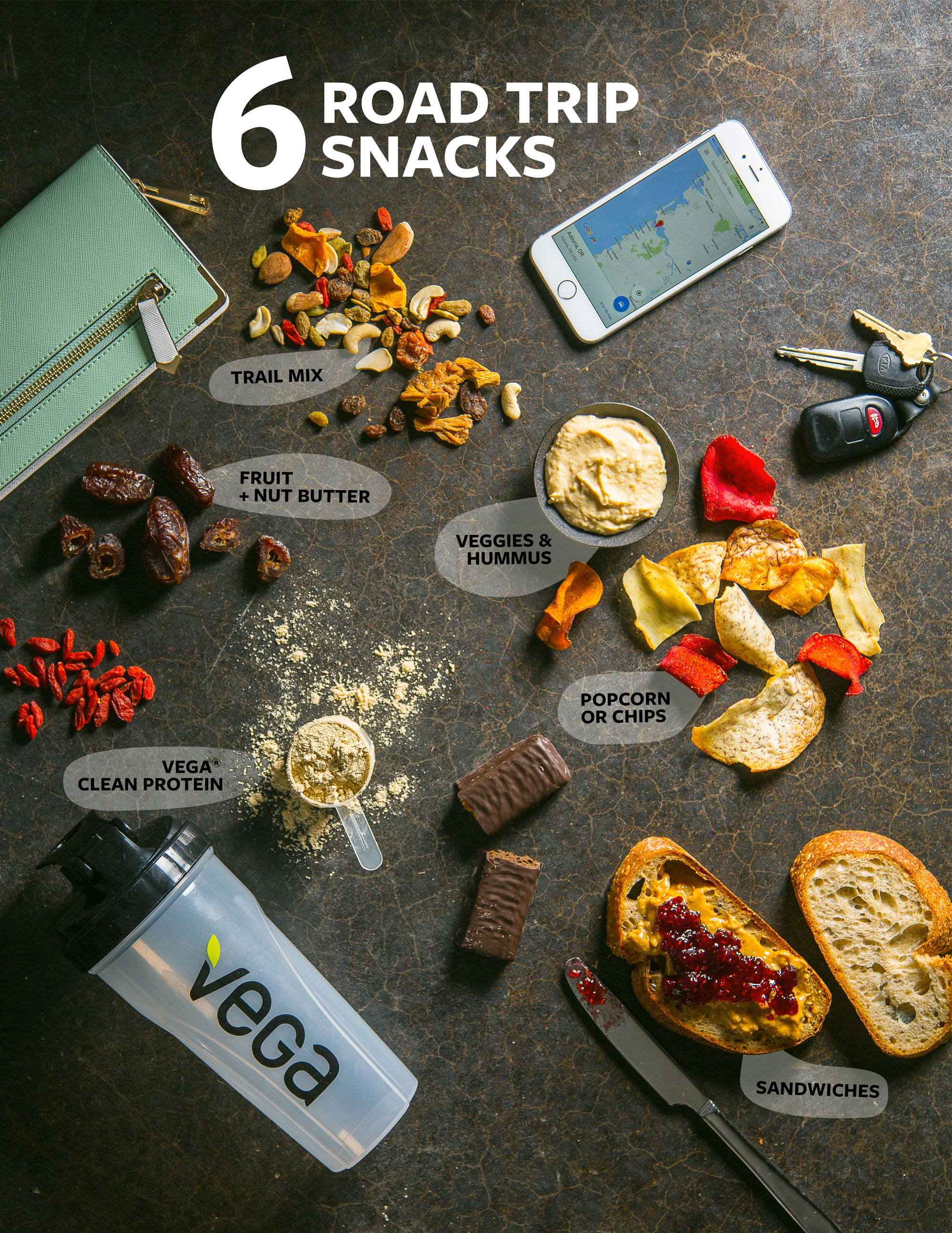 Trail Mix
Who needs to mess with getting sunflower seeds out of their shells when you can have trail mix? Pre-portion your mixes before you hit the road to make it just as easy to grab trail mix as it is to nosh on junk from the gas station. Mix it up with sweet and spicy, savory rosemary garlic or sea salt and pepper nuts.
Popcorn or Chips
Make it savory, make it sweet, make it for the road. Skip the greasy chips and truck shop fries and grab a handful of these veggie chips and popcorn.
Clean Protein
Be ready for whatever adventures the road throws at you. Upgrade your road sodas with Vega® Clean Protein and pack your shaker cup with 25 grams protein per serving.
Looking for more? Check out more of Vega's on the go snacks.
Throw deuces at hunger and hit the road. Where are you headed this summer?