by Liz Hammond
Whether you are heading out for a hike, trail run, walk or night out on the town, your feet are going to be busy this summer. When we are getting out into our community and sweating every day, our feet can often be the first place where we feel fatigue. This DIY foot soak recipe made with all natural ingredients will help to relax and restore sore and tired toes. Taking the time to prepare and enjoy this foot soak is also a great way to practice self-care and unwind after a hectic day.
DIY Lavender Rose Foot Soak
Ingredients
1 cup of Epsom salt
Benefit: Epsom salt promotes relaxation and help to draw soreness out of muscles.
2-4 drops of lavender essential oil
Benefit:  Lavender has a very calming effect both physically and psychologically. It also helps to reduce inflammation
1-2 cups of rose water (can be purchased at natural health and specialty grocery stores)
Benefit:  Rose water has balancing properties and helps to calm red, irritated skin.
**Optional: Handful of dried lavender and rose petals. While this is not an essential part of the soak, it makes you feel like you are in a spa and smells dreamy.
Method
Fill a large bowl with 8 cups of warm water and pour in Epsom salt.
Add in the lavender essential oil. Note: the above measurement is just a guideline; add as much or as little as you would like depending on how strong you want the scent to be.
Stir in the rosewater and give the mixture a stir.
Top with the dried lavender and rose petals.
Sit back, relax and let your feet soak for 10-15 minutes. I also love to light a candle or some incense, dim the lights and really let myself really unwind.
Dry off; apply coconut oil if necessary or a moisturizer of your choice.
If you have been pounding the trails or the pavement hard and have some blisters, you can create a healing coconut oil salve and apply it to effected areas after you have soaked your feet. Coconut oil is one of those superfoods that can do just about anything. For your feet, it acts as a carrier that transfers the benefits of whatever herb or oil it is mixed with. In this particular recipe, you can use the lavender oil that was included in the soak, as it offers amazing healing and calming benefits. This little salve packs a serious punch against sore, active toes.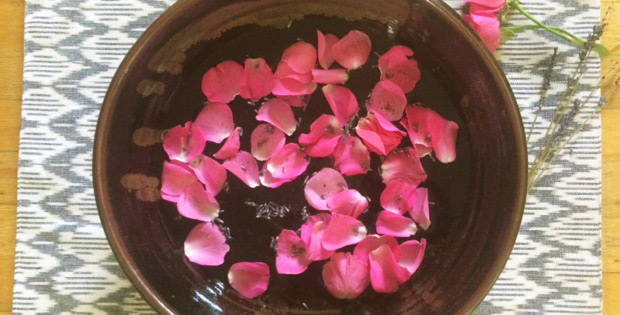 Coconut Oil Salve
Ingredients
A couple scoops of coconut oil (the same kind you use in your stir-fries!)
Benefit: Coconut oil has antibacterial properties that will help to preserve the salve so it can be used more than once.
2-4 drops of lavender essential oil
Benefit:  Lavender has a very calming effect both physically and psychologically. It also helps to reduce inflammation
Method
Add lavender essential oil to scoops of coconut oil in a bowl. Stir until you are happy with the consistency and the scent of the salve.
Apply to blisters, cuts and swollen areas of your feet after soaking them.
Keep salve in airtight container and store in a room temperature area.
How do you take care of your feet?
About Liz Hammond
Liz Hammond is a copywriter at lululemon athletica by day and a freelance writer and blogger by night. She loves sweaty spin classes, fresh flowers, trips to the bookstore and her newest obsession—acai bowls. Follow what she is up to via @lady__lizz.