By Joe Scali and Sharan Dhaliwal, Semiahmoo Athletic Club
Want to know the secret for being ready for anything life throws your way AND avoiding throwing your back out (whether you're lifting weights, small children, or a cooler full of beer)? A stronger core and better full-body strength.
Okay, maybe that's not the best-kept secret ever. But if your workout routine doesn't include the three essential compound movements with the power to help you develop or improve both core and full-body strength, then read on—and add them.
Why Compound Movements?
Everything relates to your core strength–no matter what sport you play, or what your strength goals are. Developing a stronger core is not about doing a million sit-ups (or even a million planks), but rather, it's about engaging your core during all exercises. That's why these top three movements for core and full-body strength are all compound movements—movements that engage multiple muscle groups. You multitask at work and at home, so why not multitask in the place where it's actually the most effective: the gym.
1. Back Squats
The King of All Exercises, back squats give you the most bang for your buck out of all movements. The back squat is a functional compound movement, and uses multiple muscle groups. You squat every day—learning how to squat properly will not only help you strengthen multiple muscle groups, but it can also help prevent injury.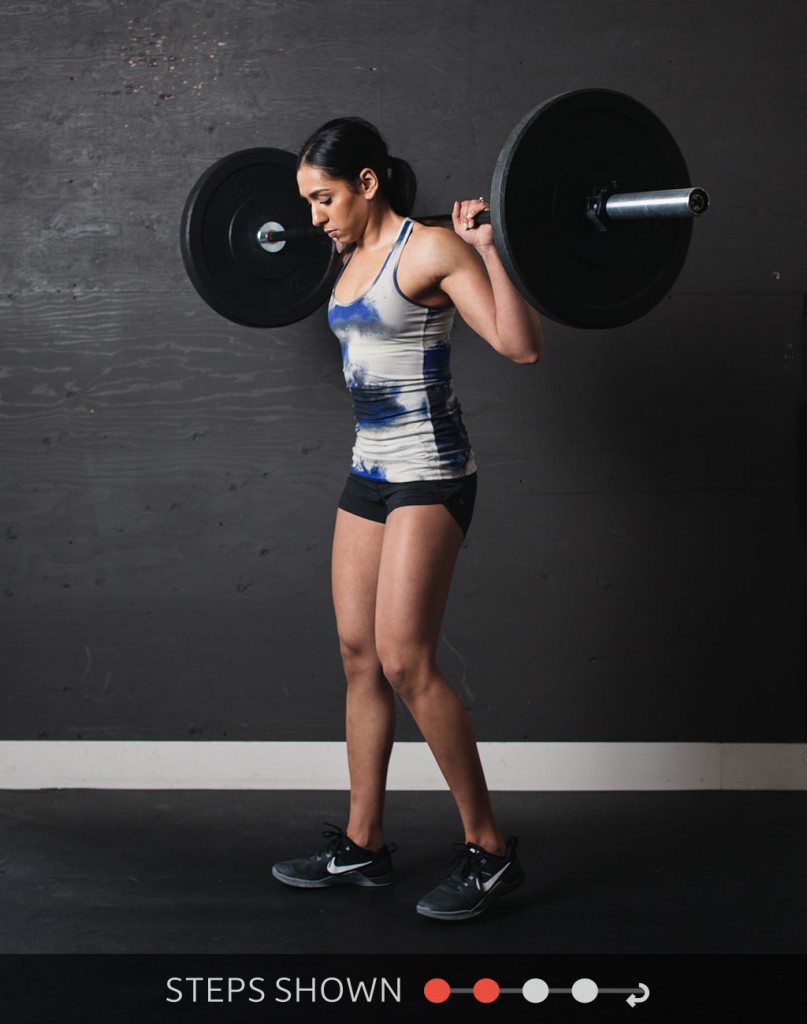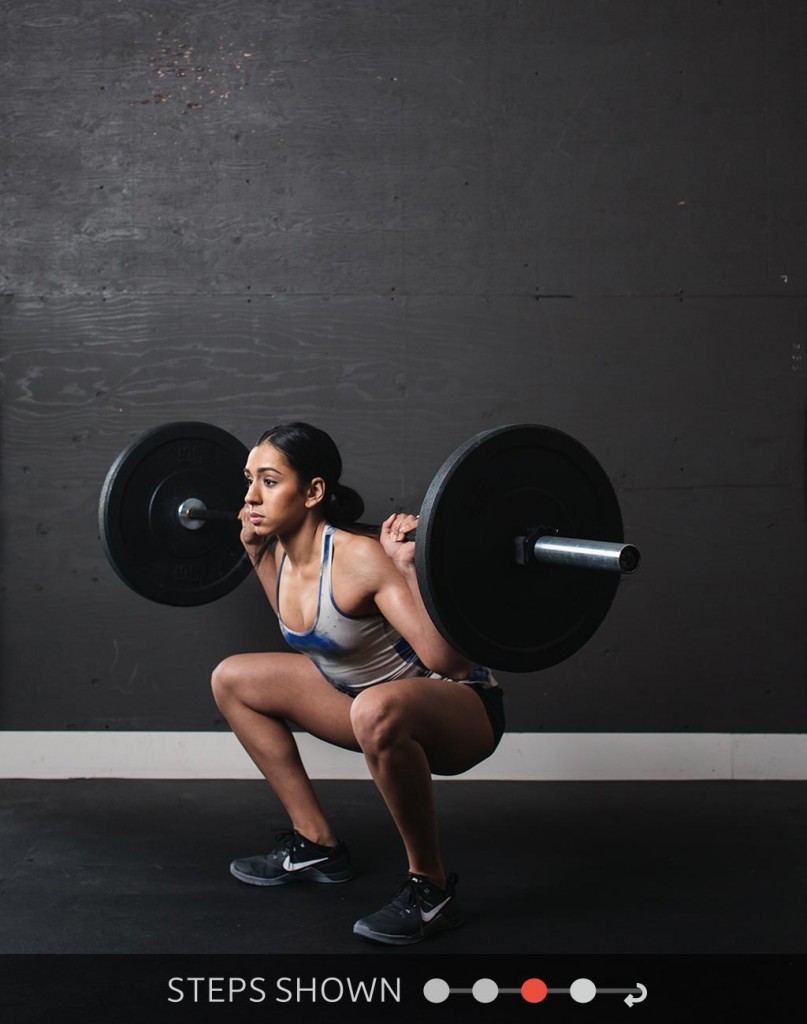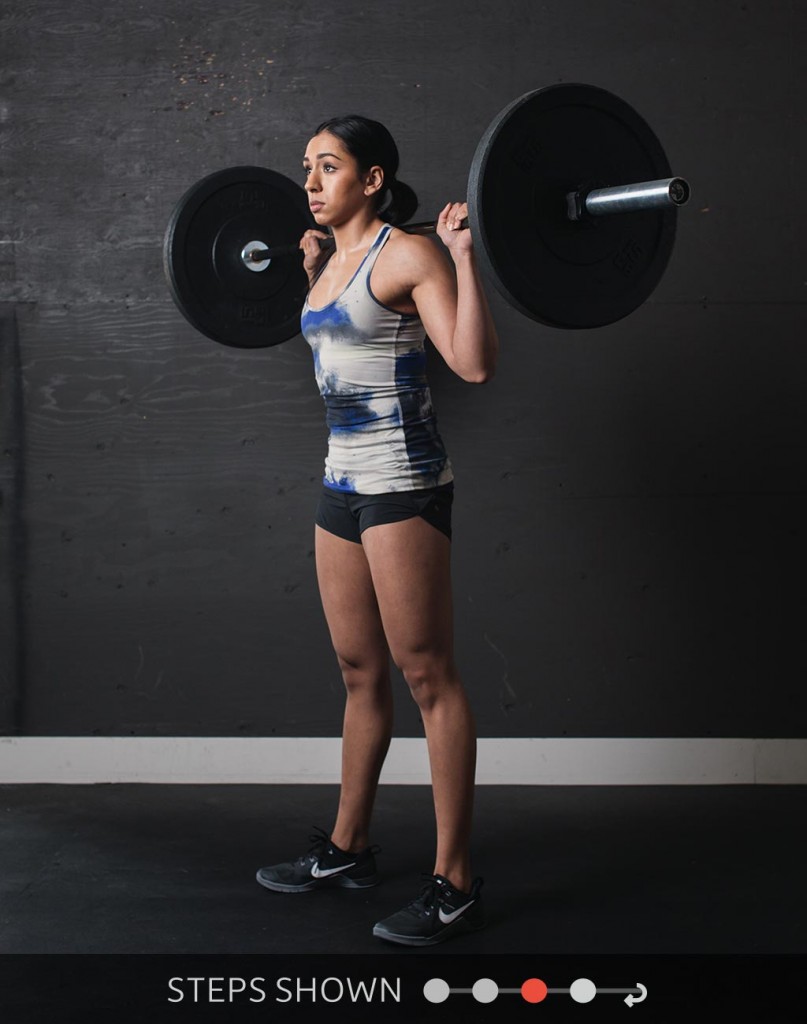 Step-by-Step:
Stand with feet slightly wider than your shoulders, and your weight in your heels. In your first movement, engage your core, then keep your hips back to maintain a curve in your low back.
Keep your chest up, eyes forward, and neck straight.
Drop your quads below parallel to your knees.
Driving up through your heels, rise up with a full hip extension.
Repeat.
2. Deadlift
Ready to build lean muscle? Live it up with deadlifts. If there is one exercise you should do for the rest of your life, it's deadlifts. You gain strength, very quickly. Not only do deadlifts improve core stability, but they also improve your grip strength—and a strong grip is useful whether you're slinging barbells, groceries, or luggage (or sealing a deal with a good firm handshake).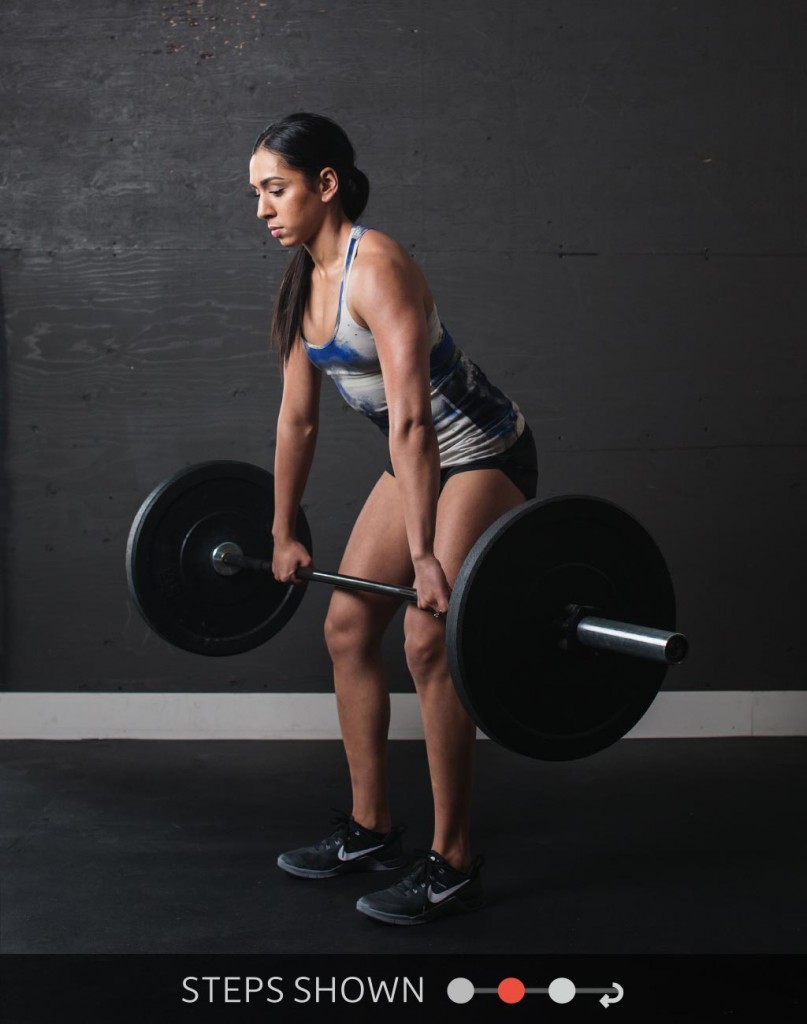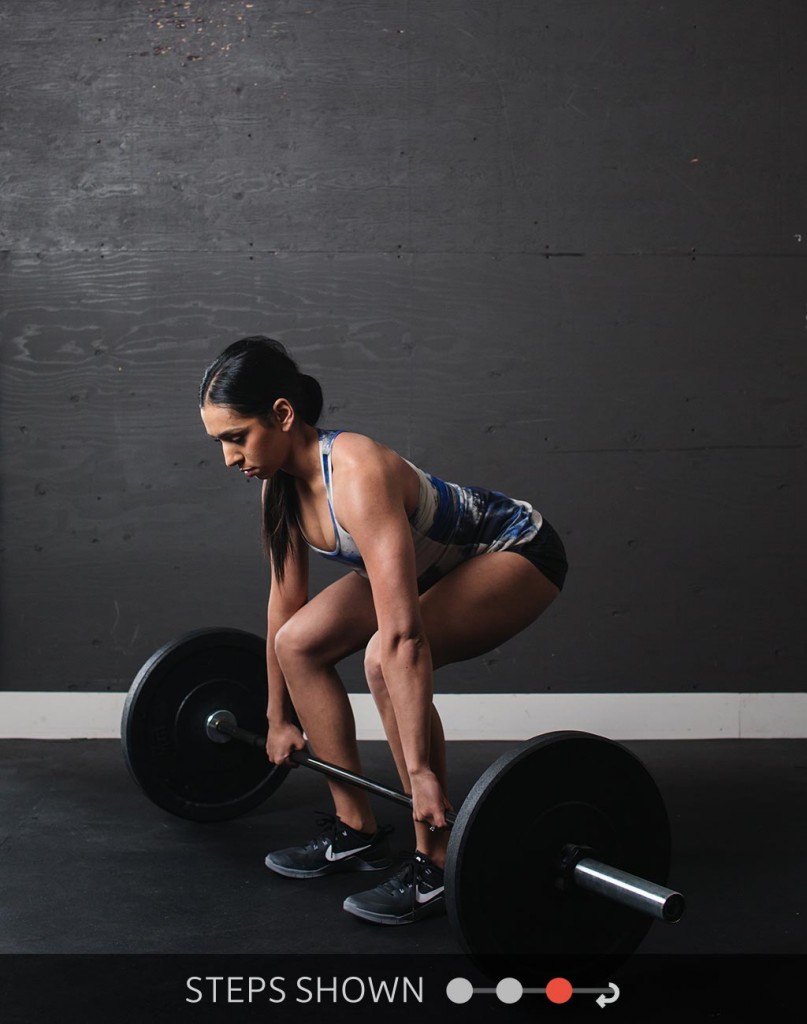 Step-by-step:
Stand with a loaded barbell on the floor, hands gripping the bar slightly wider than hip-distance and your feet hip-width apart. Your hands should rest just outside your hips, fully gripping the bar, shoulders slightly in front of the bar.
Drive up through the heels, maintaining a flat back, until your hips and knees reach extension and you are standing up straight. Your arms remain straight, and your chest should come up at the same time as you straighten your legs so that you maintain good posture in your back.
From standing, drop your chest down, keep your back flat, and shoot your hips back at the same time until the bar is lowered to the ground.
3. Single Leg Deadlift with Weight
Follow the same directions as above, except hold a dumbbell instead of a barbell in 1 hand. As you lower the dumbbell, raise your opposite foot. Keep the leg of the side you're lowering the weight on strong and slightly bent. Rise up to stand.
Presses
Presses are versatile and can be done with kettlebells, barbells, or dumbbells to work your chest and shoulders.  Not only do presses strengthen your second largest muscle group (chest) but they help with joint stability—especially in your shoulders. Presses increase range of motion (ROM) and also require ROM to execute well. If your shoulders are especially tight, avoid the strict press until your ROM increases. There are many different type of presses, all with similar results. Vertical, strict (military), and bench (horizontal) press are some of our favorites.

Step-by-Step (Standing Strict Press):
Start with your feet shoulder-width apart, and your core stabilized and engaged.
Lift the barbell from chest height on a standing weight rack, with your knees slightly bent.
Move your head back, lift the bar up over your head and pull your shoulders together while pushing your head forward through your arms to finish the movement.
Lower bar back to resting on your shoulders in the front rack position.
Bonus: Pull-ups

Pick your favorite pull-up and get at it. Not quite ready for a full-on vertical pull-up? Try a horizontal pull-up using TRX—they can be just as hard!
What's your favorite full body exercise?
About Joe Scali
Owner and Certified Trainer Semiahmoo Athletic Club
Joe Scali grew up playing hockey and continued to play College Hockey at Cornell University and went on to play professionally in Texas. With his elite background in competitive sports and his passion for training, Joe pursued a career in the fitness industry. Becoming a personal trainer, he enjoyed helping people change their lives through fitness. His passion for training and vast experience in the fitness industry led Joe to open Semiahmoo Athletic Club.
Joe is a CFP Certified Personal Trainer, CrossFit Level 1 Trainer, TRX Certified Trainer, and Certified in Trigger Point Performance Therapy and Twist Conditioning.
About Sharan Dhaliwal
Owner and Certified Trainer Semiahmoo Athletic Club
Inspired by her entrepreneurial parents, Sharan Dhaliwal pursued a degree in business and entrepreneurship. Upon graduating, she pursued a career in the Natural Supplements Industry and continued her studies by obtaining her Advanced Sports & Nutritional Advisor Certification. Sharan is a CrossFit Level 1 Trainer.