Warm weather means many a cycling enthusiast is breaking out the chain lube and getting their bikes tuned up. There are so many different ways you can explore the world on a bike, whether it's for function or for sport (or both!). Three Vegatopians discuss their experience with road cycling, commuting to work, and mountain biking. They also provide some insightful tips on how you can get started. Ride on!
Long Distance cycling
For Marley Bathe, Digital Marketing Specialist, road cycling is helping her clear her mind while she trains for Banff's GranFondo race this August. "I used to commute and go on solo biking adventures, and thought it would be awesome to go and do a long-distance trip. I always feel very free when I'm riding and it's very meditative to get out on the road.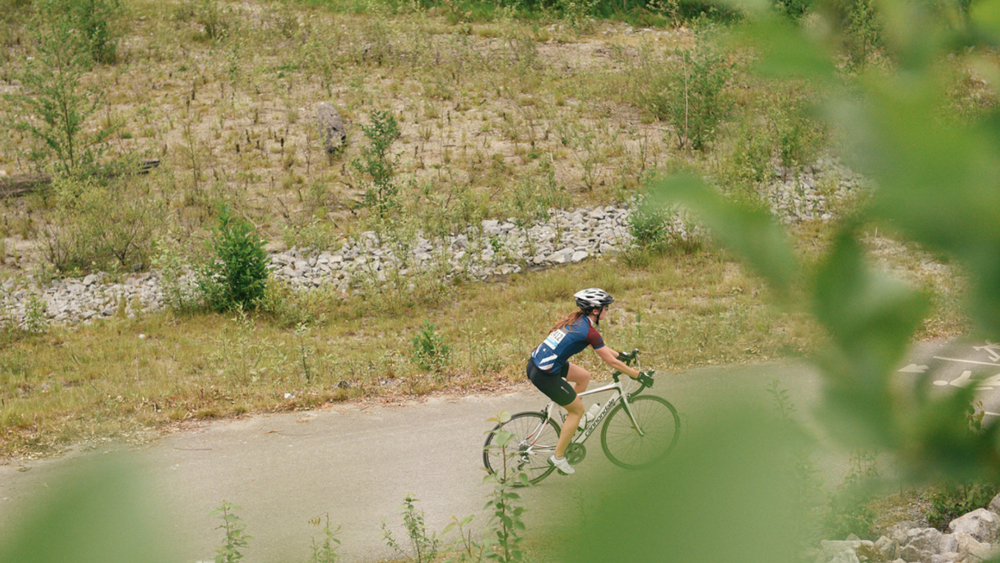 "I've now been road cycling for about a year and a half, and finished the 50K (31 mile) MEC Century Ride in April. I usually do three short rides and one long ride a week to train, and incorporate hills on the shorter rides. I try to train four days a week with some added cross-training to supplement it like yoga, running, or a strength class."
Long Distance Cycling Tips
"You can start by going to a spin class and practicing clipping in and out of the shoes and from there, ask someone who has road cycled before if they'll take you on a short ride that's around 15K (9.3 miles) or less to try it out.  Also try renting gear before you decide to invest in purchasing your own."
Commuting
Cory Bensen, Customer Experience Representative, has been commuting to work since he moved to Vancouver in 2011 and has some excellent tips for those looking to start.  "I have a very old bike and it is literally my vehicle. It gets me from point A to point B and I use it strictly for commuting. It's all about confidence, in yourself and in your bike. Make sure you have your wits about you and have all of your senses engaged fully, and don't have headphones in. It can be a very exhilarating and positive experience powering yourself from one side of the city another. And you get free parking, that's always legit."
Bike Commuting Tips
"Safety is number one. Not just with a helmet but also with lights and reflective gear. Get a good head light, tail light, and consider waterproof gear if you live in a rainy city. It may seem expensive at first but it pays for itself if you compare it to monthly bus passes or a tank or two of gas, and the gear will last you for years. A good bike lock can last you for over six years and is definitely necessary if you're parking on the street.
"Plan your route ahead of time.  Reach out to co-workers who commute for tips on what the back routes or back alleys might be. By reaching out you can establish a sense of community among your friends and co-workers who share your enthusiasm."
Exploring Nature
Max Diehl, Creative Designer, started mountain biking four years ago through other Vegatopians who loved to ride on the North Shore. "It was through the Vega culture and people in the office mountain biking and talking about it that I got into it. It also helps that we live 30 minutes from somewhere that's revered as being one of the best places to mountain bike in the world."
"Summer's great because you can go out after work for a few hours. Lots of times we'll make day trips over to the North Shore or Whistler and go to the bike park for a day. It's a time where you appreciate where you live and being outdoors in the woods. Also, when you have a big crash but come out unscathed, that always feels really good."
Mountain Biking Tips
"Find people to go with. There are a lot of online communities where people meet up and ride trails together. You can learn a lot by meeting people and it's an inclusive community of people who are totally accepting of any skill level.  People are welcoming and will ride an easy trail with you if it's your first time."
"Definitely wear lots of pads. My very first time biking in the Whistler bike park, I didn't have elbow pads and I fell and split my elbow down to the bone. I had to go to the hospital within seven minutes of getting there. Wear the pads and take it slow at first."
What kind of cycling is your favorite?