It's a little bit different here. Vegatopians (Vega employees) united by the vision of Empowering the World to Thrive, have created a team environment that has named Vega the #1 Best Place to Work in Canada. In fact, we've been named one of the Best Workplaces in Canada for six years in a row, and have been recognized as the #1 Best Workplace for Women in Canada for the third year in a row.  Curious what it's actually like to work here? We asked 10 Vegatopians to share what makes Vega a great place to work.
1. Welcome to the Vega Family
If you've ever sampled Vega at a race or event, you've probably met Sami Gustafson, Events Specialist, who travels around North America spreading the love of plants, one smoothie at a time. "The thing I love most about Vega is the zeal people have for everything they do –it's that little bit of extra enthusiasm we add to celebrating birthdays, babies, race PRs, office planks, team squat o'clock, and it carries through in our work. On several occasions, Vegatopians have booked vacation time and hopped on plane to fly out and join another Vega Team to run a Ragnar relay or Tough Mudder race. This culture values community and has a feeling of family with a friendly touch of competitiveness!"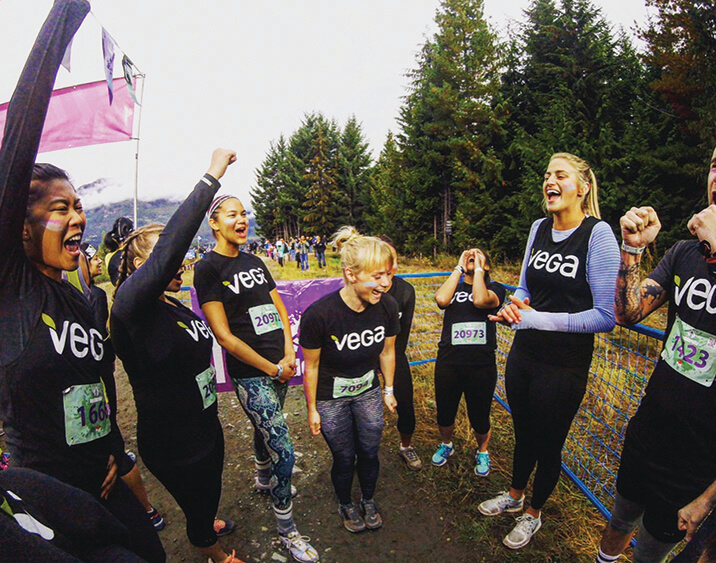 2. We're Whole People—not Just Employees
Senior Art Director Tara Doyle appreciates that everyone at Vega realizes that you have a life outside of work. "Everyone at Vega views their coworkers as whole human beings with a life outside these walls. It's not just what you do when you're here; it's about how you are as a person. If some other parts of your life aren't in balance, your work will suffer. It's a mature perspective, and requires trust that we have the right people who will not take advantage of this flexibility. As a mom, this flexibility is really helpful. It's a no-brainer to work from home if my child is sick, or I have a lapse in childcare. Calling in for meetings is not seen as a weakness but as part of life.
"Viewing employees as whole people with unique skills and passions also helps to create a fun and playful atmosphere that I love. We do silly things like dress up at staff meetings, and everyone participates–even the most senior person here.  Encouraging Vegatopians to be themselves helps us all to live our best life—inside and outside of work."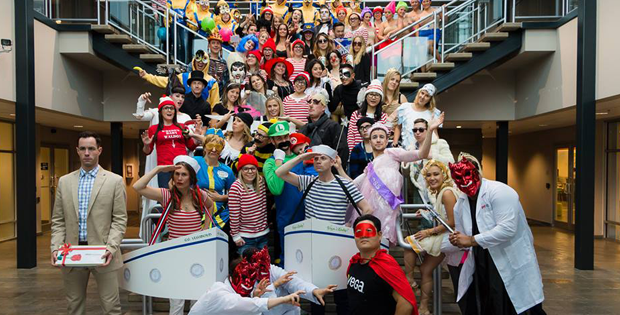 3. A Company of Entrepreneurs
Dave Chavez (United States National Sales Manager) agrees that people, and the entrepreneurial spirit they share, make Vega remarkable. "What I love most is the people. The common denominator is everyone has an entrepreneurial spirit that infuses the company from top down. It's exciting, it's fun, it's constantly changing, and it's always lively. We emphasize in the hiring process that you must be willing to own your work, and take risks. That doesn't mean that there isn't support. There are many levels of support, actually more than any other company I've worked for. Having an entrepreneurial spirit and also knowing that you have support, from the head office, marketing, education, inside sales, IT—so many levels of support to get the jobs done—makes Vega extraordinary."
4. Creating Balance, Inside and Outside the 9-to-5
Erin Forber (Senior Manager, Innovation) believes in the value of bringing people together. "Vega is a fast-paced work environment. We're lucky to have an executive team who cares enough to invest in people. We're encouraged to create fun activities—and take time out from work during work hours to participate and connect, within and across teams. Events like summer lunchtime barbeques, our annual Wellness Night, and staff meeting theme days give Vegatopians an opportunity to share our uniqueness and recognize the crazy awesomeness in one another. Cultivating successful work (and non-work) relationships starts when you make time for like-minded people to do the healthy, active stuff they love doing, together.  Many of us are great friends outside the office—and our at-work time is better because of it."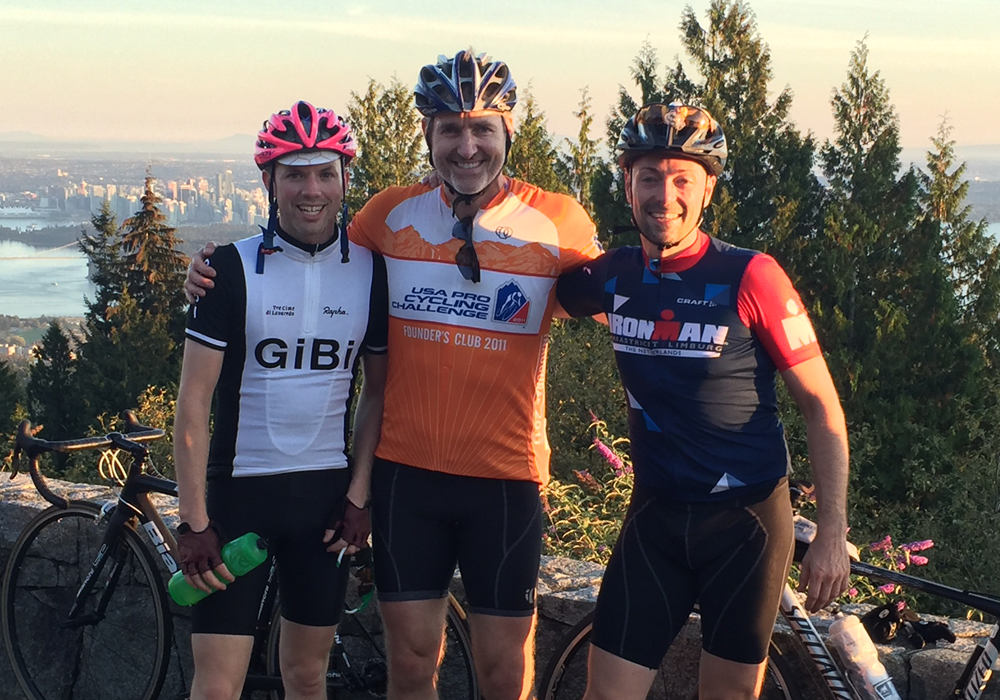 5. Building Relationships Beyond Vega
It's not just relationships inside Vega that Vegatopians value. Mary Praught (Strategic Account Manager) also appreciates the close connections made with customers and consumers. "Within Vega, I value my relationships with my colleagues and peers, because it's great to work with so many like-minded and goal-oriented people. Our sales team is built on a special model that has allowed our people to develop really strong relationships with our retail partners. By spending quality time with our customers, we learn their needs, and together can strategize solutions to their problems. We see our retailers more often than many other companies, allowing us to be more than order takers—we're a key part of business, sales and category growth. We're business drivers who care about building quality relationships. I've been in the natural products industry for so long, it's fun to work with a company that kicks the standards up a notch and is innovative."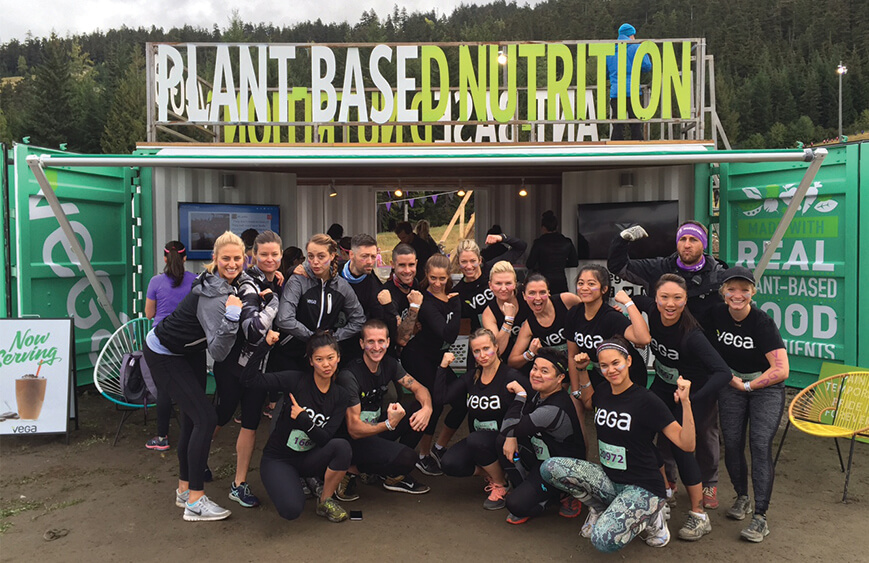 6. A Platform to Build Better Lives
Working her dream job, Kim McDevitt, MPH RD (National Educator) has always envisioned having a platform to improve others' lives. "I knew I wanted to work for a company that would promote wellness and nutrition on a larger scale, and I knew Vega would be a company that I could do that with. I've grown so much, and it's more than I ever thought it would be. It's not just a job—it's a culture and a community. I appreciate that Vega has an entire team devoted to education, spreading nutrition information on a plant-based lifestyle, and showing how nutrition can change your life. We have nutrition experts across both Canada and United States empowering real people to thrive, and it's awesome."
7. Investing in People so They Don't Just Survive, but Thrive
Shiah Bazeley (Senior Director of People & Culture) believes the level to which Vega invests in employees surpasses many other companies. "It makes my job much more enjoyable when a company really does care about its people. Believe it or not, this isn't always the case. From the moment I was asked to create a vision board as part of my interview process, I knew there was something unique about Vega. One of the most amazing things about a company is when they do what they say they are going to do, and really stand behind their values and mission. It is authenticity, integrity, and passion in each and every employee that makes Vega a seriously awesome place to work! From taking care of employee health and well-being through daily plant-based lunches and fitness challenges, to education opportunities that bring employees closer to their vision of their life, not just their career (and yes, basket weaving IS reimbursable as training), Vegatopians are supported to harness their interests and passions, create the life they dream about, and not just survive, but thrive.
8. The Power of People
Cory Bensen, RHN, eCommerce Coordinator, "What makes Vega the best job I've worked at is the people. Passionate, creative, and fun-loving only begin to describe the aura of this company. It comes from the lunchtime chats over a plant-based soup and salad, the dogs at work, the never-ending rounds of Happy Birthday (and cake!), and not to mention all the activities at Vega HQ! From boot camps to volleyball, we work hard and play hard. Whether you come in early in the morning or work late, everyone has a smile on their face, knowing they're making the world a better place.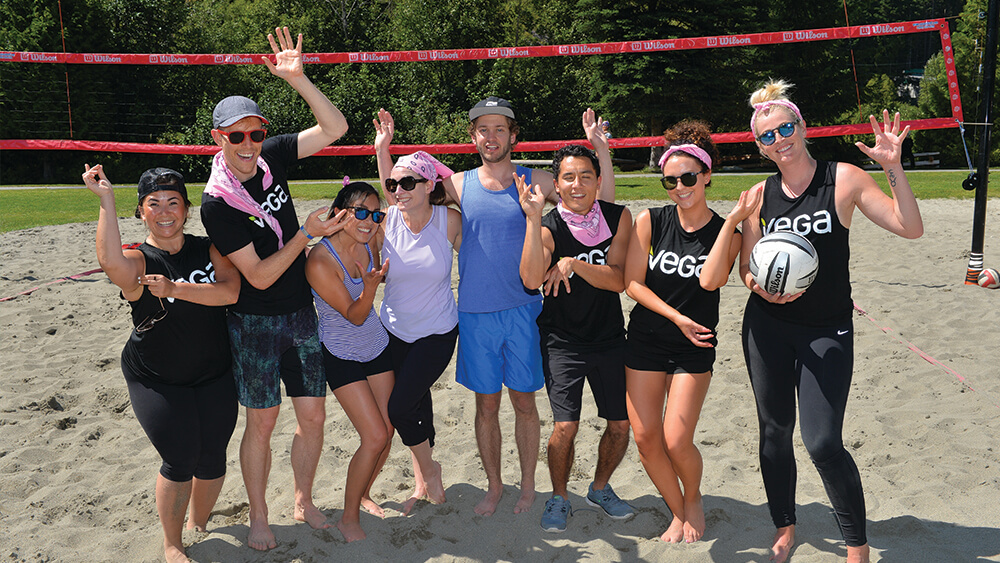 9. We're Part of Something Bigger
Ziggy Linklater, Graphic Designer, is glad to finally work for a brand that stands for something greater than just products on the shelf. "I look forward to waking up each day to work with incredibly creative people who have values that are aligned with mine. No matter how tight the timelines on a project may be, we always come together as a team, empower one another to do great work and constantly elevate. We also manage to still have fun. Whether it's a company-wide two-minute plank at Vega HQ, or Tuesday Run Club, there are moments of fun throughout each day that can turn a totally mundane day into another great day at a place I genuinely love to work."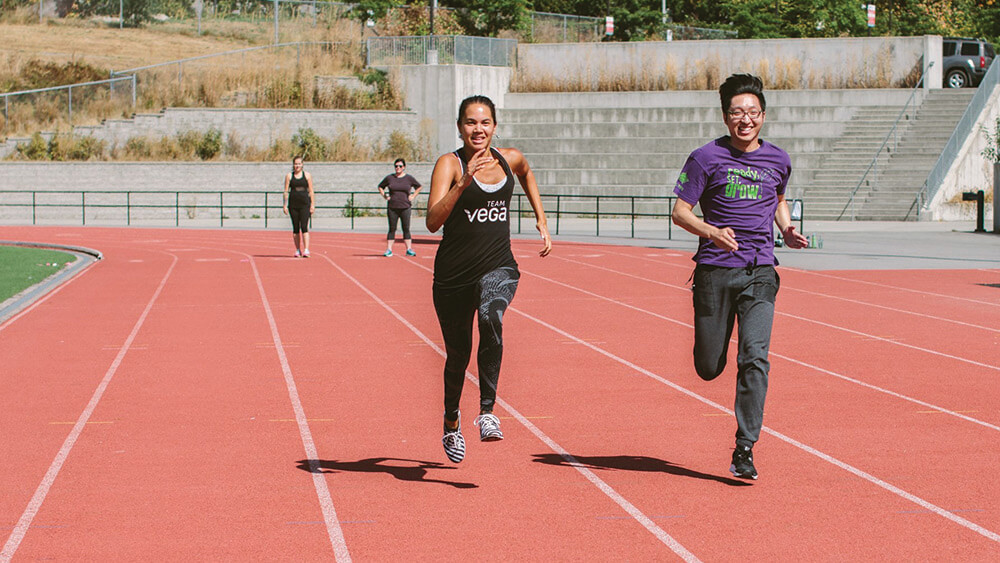 10. Better is the Center of Everything We Do
Craig Shiesley, President of Vega strongly believes, "At Vega our vision is to empower the world to thrive, which starts with our people. We have created a very inclusive culture that cares about the whole person. We come together from different backgrounds, different beliefs, different work and life experiences, but all stand united through our belief in this vision. Every morning when I walk into the office, I see people jazzed about their jobs. I see friendships forming—both inside and outside of these walls. I see talented Vegatopians do new things, and elevate their careers here. I see our company continue to have great success, and a meaningful business in North America and beyond. I see tremendous growth opportunities—for our people, and Vega.
"The belief in better is right at the center of everything we do. It is this concept of continuous improvement, that we've never really arrived, and we'll relentlessly pursue better. Better products, helping people (Vegatopians and our consumers) and the planet be better, and better business performance. At Vega, we have a special opportunity to combine the best of a big company's resources with the entrepreneurial spirit of a small start-up. We have the resources, approaches, strategy and talent to create something special for the future of food—something better."